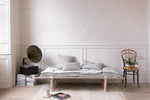 HOW TO CREATE A HOME THAT FEELS UNIQUE AND AUTHENTIC + FREE WORKSHEET
Home is one of the most important spaces in our life. Unlike most other spaces we spend time in, home is the one place we are free to design in accordance with our own wants and needs. Today, more than ever, many of us have the freedom to create the spaces we live in so that they are an authentic expression of who we are and how we want to live our lives.
But when we consider decorating a new home, redesigning our current spaces, or even just bringing new items into our home, we are all faced with several challenges:
there is simply too much choice
changing trends are difficult to keep up with
the restrictions we all face like lack of time, budget or space can seem like insurmountable obstacles
So how can we create a home we love, that feels authentic to us or our family? How can we create a home that can withstand passing trends and that leaves enough room for us to keep growing and evolving into?
There are two ideas that can provide the guiding principles for creating a home that feels authentic. Using these principals can help to empower us to make big decisions like how to design a new home, as well as smaller decisions like whether a piece of furniture or a decorative item is right for us.
The first idea is that the design of our home should facilitate and enhance the experiences and life we want to have within it. The second is that the visual voice that we use to design our homes, in other words, our style, should be guided by our values.
Renowned designer Ilse Crawford suggests that the starting point for a well-designed space should always be how the space will be used and how it should make people feel. She encourages us to ask questions like what experiences should the space facilitate? How should it make the people inside it feel? How can it increase wellbeing? This way of thinking about the design of a home represents an important shift away from seeing design simply as a matter of style. Instead, by using how we want to feel and what we want to experience as a guide for how to design our homes, we can begin to create a visual style that is flexible and unique to us.
In practical terms, this means considering how the spaces we inhabit can help to facilitate the life we want to lead inside them. How can the objects in our home enhance the feelings we want to experience there? How can the space available to us be used so that we get the most life out of them? How can materials, colour and arrangement of furniture and objects create a mood? For example, when faced with the constraint of lack of space within her own London apartment, Ilse Crawford decided to accommodate a larger bathroom with a bath and natural light rather than create a guest bedroom. Guests could be accommodated in the living room rather than a room that would end up not being in use the majority of the time. Faced with the constraint of lack of space she prioritised the activities of daily living that could help to balance a demanding work schedule, rather than designate space to a room that would only be in occasional use. When faced with constraints, it can be difficult to make decisions we feel fully satisfied with. But starting with what is most important to us in our daily life can provide some guidance when faced with design decisions that feel like trade-offs. By using how we want to live and feel as guiding principles we can begin to make design decisions that will enhance our daily life rather than simply create a stylish space.
The second guiding principle in designing a home that feels authentic to us is that we can design our home in accordance with our values. In her book 'This is Home – the art of simple living' Natalie Walton suggests that in order to develop our own unique sense of style, we need to incorporate our values into the core idea of how we want to design our home.  By using our values as the light under which decisions are considered, a cohesive visual voice starts to emerge. This voice will tie all the objects in our home into a coherent visual style that is authentic and unique to us. At the same time this visual style, guided by values rather than only aesthetics, will be more fluid and more able to accommodate changes in taste and lifestyle. For example, if environmental concerns are something that is important to us, we can use this value as a guiding principle for which things we buy for our home, choosing to buy vintage over new where we can, sustainably produced items, or buying products made from natural, biodegradable materials rather than plastic. Similarly, if creativity is important to us we can begin to ask ourselves questions about how we can use our space to facilitate our own creativity (for example by opting to change the guest bedroom into a working studio with a sofa bed) and we can surround ourselves with objects that inspire us.
With a move away from the idea that design is simply about how things look, today more than ever before we can create spaces that feel authentic to us and facilitate the kind of life we want to lead. By using our values to create a visual style that aligns with the things important to us, and by designing our homes to accommodate the life we want to unfold within them, we can create spaces that don't just look the way we would like them to but more importantly feel the way we would like them to. These two guiding principals will help us to develop our own visual voice. One that will serve to enhance our life rather than just create a stylish space.
In order to help you start your journey toward developing your own authentic visual voice, we have developed a worksheet that can be used as a guide for decision-making. The worksheet will help you identify the most important feelings and activities that your home should facilitate and what the key values are that can help to guide your decision–making. You can claim your free copy of the Developing an Authentic Visual Voice worksheet here.
This article was inspired by two wonderful books that are helpful guides to developing a considered style that feels unique and authentic. If you are not already familiar with them I would urge you to have a look at them:
Ilse Crawford - A Frame for Life
Natalie Walton - This is Home - The Art of Simple Living
Images above show our Copper Kettle, Heritage Brass Water Mister, Eggshell Spice Jar, Maple Cutting Boards in small and large, Natural Handwoven Trivet, Simple Matte White Vase, Handwoven Cotton Cushion Covers, Kapok Safari Daybed Mattress, Hand Forged Copper Cup, Simple Ceramic Mug in matte grey on brown clay, Tea Strainer in matte grey on brown clay, Botanical Dyed Frayed Linen Napkin in pale pink, Reusable Utensil Roll, Pinch Bowl in matte white on ivory clay, Cradle Candle Bowl in matte white on ivory clay.