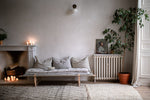 A SENSUAL HOME AS AN ANTIDOTE TO THE DIGITAL
For people around the world, much of daily life is increasingly immersed in the digital. From computer screens to entertainment screens, our days are filled with the virtual and increasingly devoid of the sensual. 
The dominance of virtual worlds is growing. With the rapid pace of technological advancement, their influence over our daily lives is only set to increase over the coming decade.
The experience of being human is necessarily an embodied one. We know the world through our sense. But as our digital and virtual worlds predominantly use only our visual sense, a grounding antidote to the flatness of our digital lives is to engage our other senses whenever possible.
The way we design our homes can either help or hinder this grounding process. The objects we bring into our homes and the design decisions we make can propel us deeper into the virtual world or they can serve to offer an alternative experience, one that reconnects us to all of our senses, firmly rooting us within our bodies and in the here and now.
As an alternative to the digital, we wanted to highlight a few points to consider when aiming to create a sensual home. 
Give consideration to all of the senses, not just sight

 – human beings rely so heavily on sight that it is no wonder we place such a high emphasis on how things look. But a sensual home gives consideration not just to aesthetics alone:

Smell: from scented candles, fresh flowers, essential oil diffusers, linen fragrances, bath salts, simmer pots and room fragrances, there are countless ways to introduce smell into our homes. Alternating smells for different times of the day and the different seasons can alter the atmosphere in a room and be used to enhance a desired mood. The aim is to nudge ourselves to use our sense of smell in our homes a little more, learning to notice and take pleasure in all the rich experiences available to us from home baking to the smell of the fire in the living room fireplace.

Sound: while music is an obvious way to introduce sound and impact the atmosphere of a room, our homes are full of sounds beyond music alone. When we pay attention to the sounds that the objects and materials in our homes emit we can begin to discover a rich world of sensory pleasure. From the creaking of wooden floorboards or a vintage leather armchair to the sound of the crackling of a fire to the different tones ceramics emit when placed on the kitchen worktop. Each one of us is drawn to different sounds in our home. Attending to the ones we love and incorporating them into the design of our home encourages the enjoyment of this sense beyond the sound of music alone.

Touch: there is so much pleasure to be savoured by using our sense of touch. Increasing the diversity of tactile experiences is one way to heighten the awareness of this sense in our homes. Furniture and objects feel different from one another and have distinct textures. The contrast of incorporating a variety of textures, materials and temperatures (the coolness of marble vs the warmth of wood) into the design of our home makes us more aware of our sense of touch compared to the monotony of using only one or a few similar materials. But there is more to consider than texture alone when it comes to how the objects in our home feel. A weighty ceramic bowl, perfectly balanced flatware or the comforting pressure of a chunky blanket are satisfying experiences that can punctuate and draw our attention to the sensual pleasures within the more mundane experiences of our daily lives. Ensuring that the objects we use most often are the most satisfying to the touch can increase the amount we attend to this sense. Ultimately, becoming more mindful of our sense of touch is most easily achieved through contrast and variety: from smooth to textured, from warm to cool, from light to heavy. 

Nothing compares to the atmosphere of a naked flame

 – sitting near a fire whether from an open fireplace or a log burning stove offers one of the great pleasures of the cooler months. But even when we don't have a fire to enjoy, lighting candles can recreate much of that same atmosphere under almost any circumstance. Candles are not just for special occasions and dinners. There is something wonderfully warming about lighting a candle first thing in the morning when we sit down at our computer to start the day.

Vary artificial lighting

 – a sensual home will rely on natural light as much as possible. But in the winter months, where the use of artificial lighting is unavoidable, an appealing atmosphere in a room rests on the use of varied and diverse sources of lighting. Rather than one bright overhead light, a more sensual experience is created when we use varying sizes, elevations, positions and diffusions of light. Wall lights, floor lamps, table lamps and candlelight all give off very different types of light. What we cover our artificial lights with adds to this variety. By incorporating several different types of artificial lights into a room we can create a richer, more appealing atmosphere. Additionally, the strategic position of artificial lighting can encourage the behaviours we wish to engage in more. For example, a reading light placed above the bed or an armchair can create the perfect spot for reading, nudging us to engage in this behaviour rather than looking at our phones in bed.

Invest most in the objects we use every day

 – the objects we interact with on a daily basis like cutlery or plates and bowls should be the most satisfying to use. From ensuring that they function properly to being the objects that are most pleasant to touch and hold, it is always best to spend more on objects of daily use rather than those we only use every once in a while.

We should aim to buy objects we love not things we think we ought to have

 – our selection of objects in our homes from bedding to kitchen knives should always consider our emotional reaction to the objects. The objects in our homes do more than just fulfil their respective functions. They create the atmosphere and determine how we interact with them. A sensual home is filled with objects we want to hold and interact with. The objects we want to interact with most, the ones we want to pick up again and again, are the objects that will serve us best for the longest amount of time.

Prioritise comfort

 - our focus on the visual has seen many pieces of modern furniture emerge which prioritise aesthetics over comfort and even function. The use of high-quality materials and design considerations that prioritises comfort create objects we want to engage with again and again. While selecting objects and furniture for our home that we find beautiful is an important part of creating a home we love, prioritising comfort is just as important for creating spaces we will enjoy living in and not just looking at. 
Our digital worlds are primarily visual. Creating a beautiful home that is aesthetically pleasing is a lovely starting point. But there is more to creating a satisfying atmosphere than just how a space looks. Sensual homes that focus not only on how rooms look but on how they sound, smell and feel awaken our senses drawing us out of our heads and into the immediate experience of our body, firmly rooting us into the experience of the present moment.
Images above show our Natural Hemp Palm Broom, Ramen Bowl in Straw and Petite Bowl in Straw, Shuro Palm Trivet, Blackline Cutting Boards, All Natural Cutting Board Oil, A Frame for Life book by Ilse Crawford, Parade Plant Pot in Antique Rosa, Copenhagen Plant Pots in Pale Rosa, Kapok Safari Daybed Mattresses in Breton Stripes, Traditional Stripes and Soft Charcoal, Extra Large Handwoven Cotton Cushion Covers in Breton Stripes, Traditional Stripes and Soft Charcoal