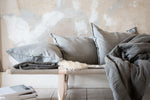 SLOW MORNING WITH BREAKFAST IN A DAY BED
As autumn settles into the year, and days begin to give way to the stretch of long nights, we celebrate the warmth and comfort of the changing seasons. Slowing down to snuggle into the softest linen cushions and savour breakfasts that last a little longer than they should, we look forward to the cosiness the coming months have to offer and celebrate a slower pace of living. 
Images above show the ILDN Simple Quilt in grey (used as both a blanket and a daybed mattress), Pure Linen Cushion Covers in grey, Eggshell Tumbler (used as a coffee cup and tea light holder), Eggshell Spice Jar, Stonewashed Flatware, Eggshell Plates and Matte White Pinch Bowl.