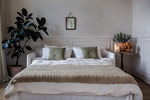 CULTURE, VALUES AND THE AESTHETICS OF HOME - PART 3
This article is a continuation from two previous articles which you can read here and here. It was inspired by Allain de Botton's book the '
The Architecture of Happiness
' – I would highly recommend this read to anyone with a deeper interest in a philosophical look at the aesthetics of place.
The objects and designs we surround ourselves with can tell powerful stories about who we are and who we wish to become. As the spaces we are often most at liberty to shape in accordance with our own wishes, our homes can serve as the physical embodiment of the stories we wish to tell ourselves.
For centuries, Western culture's aesthetic values have been dominated by the ideal of 'perfection'. Whether reflected in preferences for symmetry and perfect proportions, or a preference for the new and the blemish-free, much of Western culture's aesthetic principals are inspired by the desire to create a homage to that which is perfect or idealised rather than the world as it is.
In his book 'The Architecture of Happiness' Alain De Botton writes that in both early Christianity and Islam, theologians proposed that "exquisite surroundings" had the potential to "edge us towards perfection." They believed that beautiful environments that embodied the ideals of perfection could inspire people to strive to become better, more perfect versions of themselves.
A healthy aspiration towards betterment is indeed a noble striving. But Western culture has often pushed this obsession with perfection into absurdity. Modern Western aesthetic preferences suffer from an over-focus on unattainable ideals of perfection. Rather than instilling in us a desire to be better versions of ourselves, they paralyse us by deceiving us into believing that so many others have already attained perfection where we ourselves have not. Instead of inspiring us to strive towards betterment and growth, these false ideals disempower us by making us feel like we will never be able to catch up to what so many others already have.
And yet, we humans have an innate longing for a sense of balance. When our social norms and preferences tip too far in one direction, we often begin to long for something that will correct the imbalance.
In line with the idea that our aesthetic preferences are, at least in part, shaped by an innate desire for balance, De Botton proposes that people are often "drawn to call something beautiful whenever we detect that it contains in a concentrated form those qualities in which we personally, or our societies more generally, are deficient". This desire for balance is what shapes not only our daily lives and our routines but also our values and our aesthetic preferences. When aesthetic values veer too far toward one extreme, many of us seem to instinctively begin to yearn for aesthetic expressions that can readdress a sense of equilibrium. A hunger for that which is lacking pushes us to perceive ideals that have oversaturated the dominant aesthetic as less and less appealing while gravitating ever more toward values that might help to readdress this imbalance.
Modern cultures expose us to more styles, trends and choices than ever before; the complexity and fragmentation of modern culture is growing, so that more and more diverse values are finding expression through aesthetics than ever before.
And yet within all this multiplicity, one cultural sentiment, expressed with increasing intensity, is appearing as an ever-stronger pushback against aesthetic perfectionism.
Unlike Western culture's preoccupied with perfection, traditional Japanese aesthetic sensibility has favoured an altogether different set of values. Over the years, these values have been trickling through from the East to the West, infusing and enriching Western culture's understanding of beauty with a calmer, more balanced expression.  
Rooted in Zen Buddhist philosophy, Japanese aesthetic ideals whisper of transience and the beauty in imperfection. Asymmetry and simplicity are favoured over perfection and grandeur. Aged and weathered surfaces are preferred to polished and new ones. The natural and unpretentious is favoured over the artificial and boastful, and tranquil serenity is esteemed over an attention-dominating kind of beauty.
While Western beauty ideals may have veered too far off-course in spite of their well-intentioned origins, as I have already pointed out, extreme and unsustainable values often have a way of course-correcting. As many of us become oversaturated with images of unattainable perfection, there seems to be a natural draw toward aesthetic values, such as traditional Japanese aesthetic principals, that could serve to restore the balance.
Over the last decade or two, our aesthetic ideals for our homes have also been gravitating away from the polished, the perfect and the new toward the storied, the handmade and the natural. De Botton points to the now widely admired complexity in materials such as "brick, limestone, marble, patinated copper, wood and concrete. Materials somewhat rough and uncivilised in appearance, in each of which something organic and untamed seems to stir". This pull toward the organic and untamed is serving to readdress Western culture's over-focus on perfection. It is cultivating a different set of beauty ideals in which the real and natural is favoured over the artificial and contrived.
Our aesthetic preferences are shaped by both our evolutionary heritage and the cultural ideals we internalise. Our spaces have the power to shape our daily lives. If we are lucky enough to have the means and possibility they can become an expression of our most cherished values. At their best, our homes can reinforce and remind us of what we value most and who we wish to be. They can serve as an attempt to rebalance what we lack and act as a shrine to our aspirations.
In a world where we are privileged enough to have the freedom to consider our choices and values, and to make decisions to course-correct when we are not satisfied with the direction of development, the values and ideals we choose to cultivate, including our sense of beauty can be informed by more than just a passive acceptance of what is imposed on us by a single cultural narrative.
De Botton writes that when it comes to the objects and spaces we find beautiful, "our real desire may be not so much to own what we find beautiful as to lay permanent claim to the inner qualities it embodies…what we seek, at the deepest level, is inwardly to resemble, rather than physically to possess, the objects and places that touch us through their beauty".
For those of us for whom this statement rings true, it is natural to begin to look a little more deeply at what our spaces and the objects we fill those spaces with will echo back to us about the inner qualities we are striving to resemble.
Images above show our Belgian Linen Bedding Set in Natural White, Handmade Linen Pillow Slips in Off-White, Handmade Linen Top Sheet in Off-White, Handwoven Textured Merino Wool Blanket in Natural, Hand Dyed Velvet Cushion Covers in Hieronymus' Paradise, Copper Kettle (aged after years of use and back in stock soon), Natural Shuro Palm Trivet, Classic French Table Glasses, Hand Formed Cake Plate in Off-White (back in stock soon), Sisal Lantern Lampshade,  Hand Forged Copper Cup, Firesand Crackle Glaze Dish, Handmade Heavy Linen Napkins in Off-White.