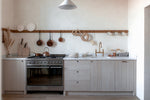 FINDING TIME TO FEED OUR SOULS
There is a tension within modern Western culture between the hurried, busy state of the realities of modern life and the slow, meaningful pursuit of the experiences and knowledge that add up to a life well lived. Many of us find ourselves constrained by the feeling that we need to 'achieve'. Looking out directly at the things we would love to be pursuing but unaware of how to allow ourselves to take the time out of our schedule to pursue them.
Western culture values achievement: moving forward in measurable increments, tirelessly smashing goals then setting new ones, diligently striving for more. More money, more power, more recognition, more degrees on our wall. But so much of what we value in life is difficult, if not impossible, to achieve within the restrictive confines of the desire to produce more, quickly.
Things of value take time. We are at a point in our culture where so much has already been done, that in order to add something of value we need to be patient enough to acquire the deep levels of knowledge and experience necessary to build on what has come before. Building on what has come before takes time.
The drive for progress is an immensely valuable aspect of our culture. This insatiable appetite for advancement is what keeps our world moving forward and what has allowed us to solve some of humanity's biggest challenges within just a handful of decades. From curing some of the deadliest diseases, to finding increasingly innovative solutions for how to feed a rapidly growing population, to propelling 90% of the world's population out of extreme poverty. Doctors and researchers driven to work tirelessly in the hope of finding cures for the patients in their care. The feeling of urgency to solve our world's problems quickly is not lost on me.
And yet, it seems that many of the rest of us have adopted this same sense of urgency for tasks that, when considered carefully, really aren't that urgent at all. Driven by fear that we will somehow be left behind if we don't keep up, we feel compelled to sacrifice exploration and learning that isn't specifically goal oriented in order to keep up with the haste of the world.
A few weeks ago, in the hurriedness of a busy working day, I caught myself reading Maria Popova's Brain Picking's. I promptly proceeded to tell myself off for 'wasting' work time on leisure pursuits when I should have been producing something of measurable value. On multiple occasions throughout any given day, I find my mind drawn to writing that explores the human condition. But instead of nursing this longing of the soul I diligently shift my attention toward my to-do list, driven by fear that minutes will turn to hours, and the hours will slip through my fingertips leaving all of my tasks undone.  
Maria Popova writes:
"I frequently worry that being productive is the surest way to lull ourselves into a trance of passivity and busyness the greatest distraction from living, as we coast through our lives day after day, showing up for our obligations but being absent from our selves, mistaking the doing for the being."
In Western societies where so many of us are spared true existential concerns, when we consider our life in retrospect what will be our biggest achievements? Will they not inevitably have something to do with nurturing and growing our souls? Or to phrase it a little more scientifically: self-actualisation? 
Thoughtful development of the self is inherently a slow process, one that requires as much dedication and time as our never ending to-do lists. What would happen if we intentionally stole a little time each month to explore those things that feed our soul? What if we added this to our calendar in the same way we add tasks to our to-do list. With sincerity and reverence. I am no expert, and I haven't lived my life out to be able to look in retrospect with the wisdom of hindsight. And yet at the same time, I cannot help but suspect that most likely, we would wake up the next day with all of our to-dos waiting just where we'd left them. Only this time as we re-engaged with them, nourished and a little kinder toward ourselves, maybe, just maybe we might be able to consider them from a brand new perspective.
Images above show our Handmade Fluted Side Plate, Handmade Fluted Dinner Plate, Natural Hemp Palm Broom, Maple Cutting Board, Copper Tea Pot, Natural Handmade Trivets, Iconic Unglazed Mortar and Pestle, Cotton Tipped Cleaning Brush Set, Hand Forged Copper Cup, Natural Dish Brush, Natural Coconut Fibre Brush, Simple Ceramic Mug in matte white and matt grey, Pinch Bowl in matte white, Pouring Mixing Bowl, Stone Washed Teaspoon, Botanical Dyed Linen Napkin Set in Slate, Stone Washed Dessert Spoon, Organic Cotton Bento Bag Set, Simple Pouring Bowl, Tall Simple Pitcher, Tallow Candle in grey, Pearwood Dusting Brush, Sickle Shaped Dust Brush, Hand Dyed Velvet Jewel Cushion Covers in Dune, Eggshell Spice Jar, Eggshell Tumbler