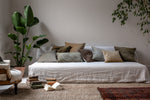 HAND DYED VELVET - THE POETRY OF SILENCE
In our restless, busy world that seems to be increasing in complexity by the minute, the healing and solace of silence come from its ability to create room for our internal life to emerge into awareness. With the outside world demanding so much of our attention, it's as if moments of quiet open up a space, in between the noise, for our small and delicate thoughts and feelings to begin to surface, simmering gently into conscious awareness.
 
I am deeply drawn to quiet places. In nature and the built environment, in art, and in my own mind. Wide open spaces, both physical and metaphorical that leave room for everything unsaid to begin to emerge and start to whisper to the conscious mind of what it has been orchestrating in the background all along.
 
I am fortunate enough to frequently come across others who are inspired by quiet and regularly find inspiration in their  ability to translate their affinity for silence into the work and the art they create. From ancient religious scriptures to modern art and contemporary design, our passion for the contemplative moments invited in by quiet highlight just how essential this state of mind is for us, today maybe more than ever.
 
Our new collection of Hand Dyed Velvet Cushion covers was inspired by the works of one such devotee to quiet who became highly skilled at inscribing the feeling of silence into his paintings. He was so skilled at invoking the kind of calm and contemplative state of mind invited in through quiet that the Royal Academy titled his first major British exhibition of artworks 'The Poetry of Silence'.
Vilhelm Hammershoi (1864-1916) painted unassuming works of art that left room for the viewer to feel their way into the wide-open space of their own mind and access a deep timeless place within themselves through his silent interiors, exteriors, and portraits. From his subdued use of colour to the uncommon perspectives he selected for his compositions, Hammershoi had a distinct ability to create an air of silence around the people and places he painted and, in so doing, compose a body of work infused with both mystery and a calm, spacious openness.
 
Although the influence of painters such as Johannes Vermeer is evident in Hammershoi's depiction of interiors and the small moments of daily life, Hammershoi's work is distinctly and recognisably his own. Hammershoi's work has a pared down quality that strips the scene to its bare bones in both content and colour. This desaturation results in a quietening that suspends his work in time, exuding a timelessness that the work of his predecessors does not.
 
Almost as if one was watching the world through a dream, looking at Hammershoi's paintings invites us into a contemplative state of mind where, out of the sparseness of his compositions, something of our own inner world is permitted to emerge. His muted colour pallet and minimal compositions create a silence that is deeply appealing to our over-stimulated minds. This quality has allowed Hammershoi's work to re-emerge in our modern times creating a renewed fascination and appeal that feels deeply relevant for this current point in time.
 
Inspired by both the content and mood in Hammershoi's works, our latest collection of Hand Dyed Velvet Cushion Covers comes in a muted pallet of greens and ochres plucked straight out of Hammershoi's paintings. His love of quiet subdued interiors, his fascination with the changing effects of natural light on spaces, and his ability to create a sense of calm overlap beautifully with the same elements that capture my own imagination.
 
In many ways Hammmershoi's home at Strandgade 30 in Copenhagen was his muse. He painted many paintings in and of this pared down space, both with and without people in it. From the small, unassuming moments of daily life to the way that sunlight changes the atmosphere in a room, Hammershoi's calm quiet spaces, views through windows and open doors invite us to look deeper at the ordinary and notice in its everydayness something of the divine.
 
Our latest collection of velvet cushion covers consists of seven new colours of ochre, olives and greens. The name of each colour is derived from an element of one of Hammershoi's paintings and together they reflect back something of the beautiful, muted colour pallet he felt so at home in.  
 
1. Easel
Inspired by the dark dusky light in Hammershoi's depiction of his easel in front of the green-blue walls of his Strandgade apartment. This unique olive green tone with darker veining throughout was named after the painting an Interior with the Artist's Easel.
2. Bondegard
Bondegard was inspired by the painting titled Hjorney a fen Bondegard (corner of a farm) depicting a farmhouse with a thatched brown roof. The beautiful deep brown colour with olive tones of the roof was the inspiration for our deep olive-brown colour named Bondegard.
3. Asiatic
This divine gold tone is often the accompanying background colour in Hammershoi's depictions of his mother Frederikke but our colour name was inspired by the beautiful framing of the Old Asiatic Company building in Hammershoi's painting with the same title.
4. Strandgade
Strandgade 30 was the address of Hammershoi's home in Copenhagen. This space provided the inspiration for many of his images. With its sparsely decorated interiors and ever-changing light, this home is represented in tones that range from green to grey to blue. Our velvet colour Strandgade was inspired by this range of tones from sage green to grey-blue found in Hemmershoi's depiction of interior painting of his home.
5. Lys
The strong and deep dark green tone was inspired by the overall dark and moody tone of the painting Interior. Kunstigt Lys. (Interior. Artificial light).
6. Alleen
Inspired by the olive tones in the painting tilted Ronne-alleen ved Senekkersten, Alleen is the perfect olive colour; deep, rich and warm with the slightest hint of sliver-blue tones that become more pronounced in cooler light. 
7. Feyer
Named after one of my favourite of Hammershoi's paintings, this deep brown tone gets its name from the beautifully quiet depiction of a woman sweeping in Hammershoi's painting titled Interior med en ung Pige der Fejer.
Images above show our Heavy Washed Belgian Linen Throw Blanket in Ecru used as a sofa cover and Hand Dyed Velvet Cushion Covers in Bondegard, Alleen, Strandgade, Asiatic, Feyer, Easel, Lys.