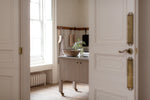 HOW MASS PRODUCTION CAN UNDERMINE OUR UNIQUE VISUAL VOICE
Have you ever walked into someone's home and been struck by how much the space they have created feels like them and represents their personality? Spaces and objects that have been designed and put together with care often have the wonderful ability of capturing elements of the character of the person who designed or bought them. Walking into someone's home and immediately getting a sense of who they are and what they value is like physically stepping into their world. For me, it is always an interesting and inspiring experience: the physical manifestation of someone's tastes and preferences, travels, interests, hopes and aspirations. Homes that have evolved over time, that are imperfect in so many ways yet capture all the spirit and soul of the people who live within them create restorative sanctuaries for the people who spend time in them. They create unique spaces where people can reconnect with one another and with themselves, and they often have that same wonderfully welcoming effect on visitors too.
We live in a time that has seen many advantages arise as a result of globalized mass production. Home furnishing and décor fall into this category too. It is undeniable that the decrease in cost that can only be achieved in large-scale production has in many ways democratised design making it accessible (and affordable) for an increasing number of people. And while there are wonderful aspects to this point there are also many drawbacks that have become increasingly relevant for our time. Being mindful of some of the issues surrounding global mass production, and being willing to engage in dialogue about its relative advantages and disadvantages is such an important part of moving forward in a more graceful and informed way than the way we have ended up where we are today. 
One of the main issues relating to global mass production is that the artificially low cost, resulting from production that relies on huge volumes of continuous sales, has the consequence of devaluing goods to a point where they begin to feel disposable. The feeling of disposability arises as it becomes cheaper to replace, rather than repair an item and as it becomes affordable to regularly replace what we own with the changing whims of fashion.
What's more, globalized mass production can also lead to a kind of homogeneity, making many homes and spaces feel increasingly alike. When low costs make it easier for us to keep up with the latest trends, our homes can end up feeling increasingly alike.
But if we reject the relentless pursuit of passing trends and instead invest time and care into fostering and cultivating those differences that feel authentic to us, we begin to nurture our own unique visual voice. This voice may not be perfect or on trend but it will be true to ourselves. And developing a voice that is authentically ours nurtures inspiration and creativity not just within ourselves but also within others we come into contact with.
When it comes to avoiding the homogeneity that can result from globalized mass production there are a few simple pointers that can be helpful:
Avoiding 'fast fashion' stores

 

where possible: Big brands who rely on the cultivation of a disposable attitude to goods and the continuous passing of trends can be environmentally and morally challenging while encouraging the kind of sameness that leads to global homogeneity.
Buying vintage

 

items where possible: Vintage furniture and home goods are inherently more unique and more environmentally friendly. The patina of age that often comes with these products serves to infuse them with the kind of character and soul that is hard to come by in new products. They are often also of better quality than items made today.
Buying handmade

 

objects: Not only do handmade objects come with an inherent uniqueness, the production methods required to create them often encourage a much slower pace of consumption. Objects that support small-scale artisanal production preserve unique skills, create meaningful work, cultivate creativity and uniqueness and encourage more mindful approach to consumption.
Keeping what we have for longer: Using what we have more creatively and flexibly, re-imagining the objects in our home and allowing them to develop the patina of age and use, infuses them with a uniqueness that can not be recreated artificially.
In a world that is so saturated with both things and ideas, bringing our own unique perspective to the table can often seem like one of the few remaining ways to add value. Our homes are no different. Creating a home guided by our unique perspective is what is most likely to inspire not only others but also continue to inspire us. Global trends and mass production can often serve to undermine the very differences that make each one of our voices unique. Cherishing these differences on the other hand, seems to carry benefits for us all.
Images above show our Organic Cotton Bento Bags, Sickle-shaped Dusting Brush, Botanical Dyed Linen Utility Apron, Maple Cutting Board large and small, Blackline Cutting Board large and small, Simple Ceramic Jug in white, Pallares Solsona Kitchen Knife medium, Eggshell Spice Jar, Simple Bowl and Spoon, Eggshell Plate, Eggshell Tumbler, Simple Pouring Bowl, Natural Handwoven Trivet, Kapok Safari Daybed Mattresses, Heritage Brass Water Mister, Pearwood Dusting Brush, Handwoven Cotton Cushion Cover in Traditional Stripes, bowl of Flower Frog and Bowl used as a plant pot, Hand Forged Copper Cup, Candlestick Saucer in matte grey, Eggshell Tumbler used as a vase, Cradle Candle Bowl and Simple Matte White Vase