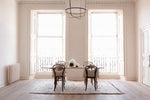 HOW TO CREATE A COMFORTING HOME
There are few places that have as strong an impact on our wellbeing as our homes. Home is where we rest and recharge, where we are free to be ourselves, where we can let our guard down and be vulnerable, where we can learn, play and grow. Our homes are a way to welcome others into our world and to offer them a deeper look into our preferences and values. But our homes are also a way to nudge ourselves towards becoming what we want to be, they are after all the environments we have the most control over. They can bend, shape and even create our moods and they are one of the few places where we are free to create an atmosphere that can impact the mood of others. 
When creating, changing or adding to our homes, there are many things we may want to achieve. We may want them to reflect a part of our personality, facilitate activities or moods, or even nudge us towards a certain way of living. For me, in our busy, fast-paced world that moves at lightning speed without much regard for whether we can keep up or not, home is first and foremost a place to find physical and spiritual comfort.
I have seen many beautiful homes, but a well-designed home is not necessarily a welcoming or inviting one. Some homes may be modest, less impressive at first glance or uncommonly put together but they exude a comforting warmth that makes the people who find themselves in these spaces want to linger. While style, originality or creativity are aspirational qualities in a home, creating a comforting space for ourselves and the people we choose to share that space with is a quality that may have more of a positive impact on our lives than the most styled space ever could.
Unfortunately (or in my opinion, fortunately), there is no formula for creating a warm and welcoming home. But as humans we all share an evolutionary heritage that makes many of our intuitions very much alike; when it comes to matters of the soul, we are more alike than we think. And with that common human thread in mind, I wanted to share three small pointers that are helpful when thinking about how to create a home that feels warm, comforting and welcoming:
Natural materials – There is a reason natural materials are an almost universal elixir for the soul. Plastic has not been around for long enough to have had its sensation on our fingertips coded into our DNA. As a species, we have worked with and been surrounded by materials like wood, wool and clay for millennia. There is something wonderfully soothing about stepping onto bare wooden floorboards, leaning into the natural wrinkles of linen or holding a utensil made from a single piece of wood. Whether we add these materials sparingly in the form of a few functional and decorative pieces or whether we use them liberally by choosing natural flooring, furniture, and rugs, the more they resemble what we encounter in nature (undyed wool, unlacquered wood, textured stone) the more soothing their effect can be. 
Handmade homewares – There is a charm in objects made by hand that is difficult to replicate in factory production. Whether it is little imperfections that make every item unique or small traces of the maker preserved within the material, handmade items have a soulful quality that makes them feel homey and down to earth. What's more, there is a comforting connection to be experienced in the knowledge that the item we are holding was made by another human being. One who has invested time, energy and skill into creating a functional or beautiful object that can take its place within our home. Often the more we know about how (and by whom) an object was created, the more meaningful it becomes.
Perfectly imperfect - homes that have elements of imperfection in them are often far more homey than perfectly put together spaces. There is something comforting about not having to worry too much about the marks, chips or scratches that come with daily life. Well worn, well-loved homes that have captured the traces of time not only tell the stories of how they have been lived in but also serve to reassure their owners and their guests that any signs of use or small mishaps will become a part of that story too. But this comforting feeling isn't reserved exclusively for old homes. A few vintage pieces and the bravery to leave things a little undone can serve as a starting point for recreating a relaxed atmosphere within new or newly redecorated homes. I am of the opinion that it's best not to spend too much time worrying about stains on marble worktops or chips in ceramic cups. Trying to keep our homes pristine at all costs can be mentally exhausting, and it's a losing battle. By intentionally creating room within our design for imperfections to appear or even incorporating them from the get-go, we are more likely to create an environment where others and we ourselves can let our guard down and feel at ease.
When it comes to creating a welcoming home, there are no rules. Some choices will enhance the comforting feeling of home, others may dull it or jar. Our best bet is to learn to listen to our intuition. If we can let how we want to feel rather than a certain look be the guiding force of our decision-making, we are more likely to tap into those underlying human desires that create spaces that feel warm and welcoming to all. We have to have a vision for what we want to achieve and we have to be brave. But I have found that the most comforting homes are those where the vision comes from how spaces should make us feel, rather than just how they should look.
Images above show our Eggshell Tumbler, Eggshell Plates, Simple Matte White Vase, Short Simple Matte White Vase, Stone Washed Flatware, Botanical Dyed Linen Napkins in Slate and Stone, Snake Scented Candle, Octopus Scented Candle, Handwoven Cotton Cushion Covers, Pearwood Dusting Brush in White.