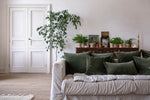 HOW TO CULTIVATE A UNIQUE INTERIOR DECORATING STYLE
Trends come and go.  Well designed and easy to live in spaces with character and soul can stay relevant for decades. By working to discover a visual style that's personal to the way we live and what we value in life, we are more likely to create a home we will feel contented in for longer.
This does not mean that nothing will ever change. As we grow and develop, learn new things, move in new directions and the needs of our life change, so too will aspects of our style. But an underlying, unifying thread guided by our values and how we want to feel in our home ensures that changes in needs, preference and lifestyle can be incorporated gently.
When we are used to keeping up with trends, it can be easy to feel lost. Our own voice seems so quiet that it is impossible to use as a guide for decision making.
There is nothing inherently wrong with the changes in taste that lead to trends. But the difficulty with attempting to keep up with the current pace of change means we are more likely to become unhappy with what we buy far more quickly. In a world that is struggling with the consequences of over-consumption, this can be problematic. So working to discover our own voice and a style in tune with how we live can be a worthwhile pursuit.
I recently came across this lovely article by Kate Watson Smyth that considers a particular style of Parisian interior decor. Parisian style has a timeless quality to it that seems to stay relevant regardless of trends. In this article photographer and interior designer, Carole Poirot explains that for many Parisians the focus in decorating their homes is on longevity rather than being fashionable. Frequent changes that follow trends are not common. Instead, Carol Poirot highlights that what is key to this way of designing the interior of a home is to create a very personal look. 
When asked by Elle Décor how he would define his style, designer John Derian,  described his distinctly personal look in terms of the feelings it evokes: "comfortable and not fussy".  He explains that the natural element in his style comes from the fact that he loves spending time in nature and so tries to create that feeling in his interiors. Much of his description is focused on the feelings he wants the spaces to evoke rather than a specific look (read more here).
Inspired by the idea of a more unique approach to design, guided by how we want a space to make us feel, we've put together a few simple tips for how to cultivate a style that feels deeply personal: 
To get you started on discovering your own unique style we've created a free worksheet that will help you start to define your authentic visual voice. You can read more about it and download the free worksheet

 

here.
Pay attention to those interiors that evoke an emotional reaction in you. Once you have identified several, ask yourself why they resonate with you? What do they mean to you? How do they make you feel? What do they have in common that is appealing? Your unique style will always work best when it's something you truly feel comfortable in – if you like an image ask yourself does it feel like you and would you really be comfortable living in that space or is it a space that is beautiful to look at and visit but would ultimately not be comfortable for you to live in.
To be able to hear our own voice more clearly we need to dull down the noise created by other sources. Interior blogs and magazines are such a great place to gather inspiration but they can also be the surest way to lose touch with our own voice. The continuous stream of new content can keep us feeling like we are on a treadmill: as soon as we have bought items from one trend the next seems to pop-up and what we have can begin to feel dated. Instead, it can be helpful to spend more time looking at old magazines and old blog posts, actively searching for images that are in line with our own visual voice rather than letting new magazine releases and blog posts guide us. Big interior blogs that post daily will have a treasure trove of images and inspiration in old blog posts and on

 

Pinterest. Searching through old features with specific keywords (for example, 'modern vintage' or 'natural home') or looking for similar images on Pinterest is a more personal way to mine these treasure troves for inspiration that is led by our own preferences. 
Follow people and brands who cultivate their own unique style rather than change with the latest trends. Some of our favourite interior designers who cultivate a style personal to them are John Derian, Axel Vervoordt, Ilse Crawford and Hans Bloomquist to name just a few. These people may seem trendy at times as their personal style comes in and out of fashion but if you look back over their work their unique voice has stayed consistent over the years and is always recognisable as theirs.
Unfollow those who are strongly focused on trends. Even if only for a little while. Once we are no longer continuously exposed to ever-changing trends, the pressure to keep up ceases. You can absolutely be the curator of what you do and do not see daily. Once we are less exposed to the constant barrage of new trends, we can begin to hear our own voice more clearly.
While it can sometimes be helpful to define our style (for example minimalist, rustic or natural) we should aim to use this as a base or a starting point. A slightly more eclectic approach is always more personal. Pull inspiration from various different styles so that even if a minimalist approach is what works best for your lifestyle, incorporate other elements that begin to break free from a rigid definition and begin to make the style personal to you.
Collecting visual images, whether through scrapbooking or Pinterest is a great way to nurture and develop our own style. By collecting visual inspiration based on our

 

own authentic visual voice

 

rather than based on current trends we start to bring our voice to life and cement a style that is very personal to us.
Being influenced by current trends is unavoidable. We don't live in a vacuum and are connected to everything and everyone else around us. And rightly so. But trend-based consumerism can lead to a permanent feeling of dissatisfaction. By cultivating a style based on our values and how we want to feel inside a space we are far more likely to create a home that we feel satisfied with for longer. 
Images above show our: Hand Dyed Jewel Velvet Cushion Covers in Walden, Hand Dyed Vintage Linen Cushion Covers in Linden, Copenhagen Plant Pots in Pale Rosa, Parade Plant Pots in Antique Rosa, Kapok Safari Daybed Mattresses in Traditional stripes (used on sofa as stackable sofa covers) and in Breton Stripes and Soft Charcoal (used on safari daybed as stackable mattresses), Handmade Heritage Watering Can, Hemp Palm Broom, and unique new handmade plate and bowl from a textured earthy clay and snowflake crackle glaze (coming soon!).