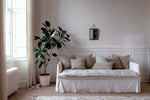 HOW TO TAKE INSPIRATION FOR INTERIOR DECOR FROM NATURE
There is so much we can learn from the natural world when it comes to design and the harmonious decorating of our homes. We are intrinsically drawn to natural environments and it is an almost universally human experience to find, not only great beauty but great solace in nature. Much of what we find beautiful as human beings is dictated by 'laws' or principals found in the natural world. 
For millennia, humans have been inspired and informed by the natural world and have used their insights to progress ideas and practices in design. From harmonic proportion to colour theory, many design principals are informed by the natural world. 
In her book titled Classical Painting Atelier, Juliette Aristides highlights this point by explaining that "curiously, the same ratios that are pleasing to our ears provide pleasing intervals to our eyes. Throughout history – from ancient Greece, through the Renaissance, and up through the first half of the nineteenth century – master artists have used the harmonic ratios discovered by Pythagoras to divide up their pictorial space, mirroring the universal patterns found in the intervals of sound and proportions of nature".
In much the same way that painters have benefited from using both natural scenes and natural harmonic principals as inspiration for their work, there is plenty to be learned from nature for the décor of our homes.
Turning to nature for inspiration as one of the simplest and most informative design guides to follow, is a great place to start whenever we are in doubt. Below we share a few ideas on how to be inspired by the natural world and use it to help us make more harmonious design decisions for our homes.
Harmonious colour combinations - colour can be such a difficult thing to get right in any design and yet it is one of the most impactful design decisions. One of the simplest ways to ensure the colour selections we make work together in harmony is to take inspiration from nature. Nature creates harmonious colour combinations that we find instinctively appealing. When we lack inspiration or simply don't know which colours would work well together, naturally occurring colour combinations provide a great place to start. By selecting a natural scene we find particularly appealing colour-wise, we can find ideas and inspiration that complement one another. The simplest way to translate a natural scene into our interiors is to take a photograph and bring it home to study in greater detail. By choosing colours from the image we can imitate naturally occurring, harmonious colour combinations that work well together.
For calmness leave a lot of negative space - if we want to infuse our interior spaces with calm, the natural world is one of the perfect places to turn for inspiration. From colour schemes to natural materials, interiors inspired by nature tend to have an inherently soothing and calming effect. But an often-overlooked point of inspiration from nature is the calming effect that can be created by leaving empty or negative space within a design. Some of the most soothing natural landscapes are expansive open spaces with room to breathe (think of the feeling of standing in front of a seascape, a lake view or an open plain). Incorporating negative space into our interiors creates an expansive and calming feel to a home. With less clutter, there is more space for our eye to pause and linger on a few key focal points of interest. This design choice creates a more mindful visual experience where our eye is naturally encouraged to attend to, and engage with, a few elements for longer rather than jumping around. There is no need to fill every corner or every part of a wall. Instead, harmony lies in the balance between the design elements and the negative spaces around them. So long as we make conscious decisions about which spaces not to fill and understand why we have opted to leave precisely those spaces bare, our rooms will become more soothing and calming without feeling empty. When making design decisions about what to leave bare, the simplest way to start is to ask ourselves why particularly that space? What effect will the negative space have there? What will it allow to come to the forefront more easily? And what visual rhythm will it create with the other pieces around it? To get inspiration for how to effectively execute negative space as a design choice, spend some time studying some of the many wonderful interior spaces designed by Axel Vervoordt (just search for Axel Vervoordt interiors on Google images or Pinterest).
Decorate with nature – from twisted branches to dried pieces of wood full of texture, colourful wildflowers or long grasses in muted colours, foraging for natural elements to bring into our home offers a lovely alternative (or addition) to shop-bought flowers. From the benefits of getting out into nature to acquire naturally foraged decorative elements, to their cost effectiveness, to the unique beauty they add to an interior, there are so many reasons to 'source' decorative pieces from nature. For inspiration on how to incorporate nature into our homes in beautiful and interesting ways look to 

Colin King

 and John Derian (search for John Derian interiors on google images or Pinterest).*

 
Embrace imperfection - we often try to make our spaces look as polished as possible but nature is seldom perfect or pristine. Natural scenes are found in various stages of life from the fresh and the new to the aged, weathered and even decaying. Taking this idea and translating it into interiors can take the form of mixing the old with the new and the pristine with the aged, weathered and patinaed. Whether this be old and new pieces of furniture, old and new building materials (such as reclaimed floorboards), or old and new surfaces (such as aged copper, marble or wood), a dynamic mix that incorporates imperfect pieces and finishes adds interest to an interior. Not only is this look more forgiving than a more difficult to live with minimalist modernist style, it infuses an interior with depth and soul, giving the eye more to discover and linger on. 
Allow for time – the most beautiful things in nature take time. Like a mature garden or forest, there is an earnest kind of beauty in objects and spaces that have been allowed to mature and age naturally. While self-restraint can be challenging, we should try to allow ourselves to feel comfortable enough to leave things unfished and space for interiors to evolve and develop with time. Whether it is the patina of an individual object or the organic, dynamic nature of the entire design of our home, time infuses things with a unique quality and warmth. We should look forward to this and create room for it to happen naturally in our spaces by cultivating patience and restraint. 
Colour professor Jill Morton from Colour Matters explains harmony in design as a "dynamic equilibrium." Neither too complex and chaotic nor bland and under stimulating, harmony in design, Morton explains, is achieved by creating "an inner sense of order, a balance in the visual experience". Natural scenes are instinctively pleasing to the eye because they follow an order that feels inherent to the way we understand design; a kind of cosmic harmony that is not arbitrary but is the fundamental basis for much of why we find things pleasing and beautiful. There is much we can learn in terms of design simply by taking inspiration from nature. Cost-effective, rewarding and endlessly informative, nature is a wonderful place to turn to for guidance on many design decisions.
*one point to be conscious of when foraging from nature is to be mindful of what we are taking and how much. If we are going to snip of a branch, a flower or a leaf, it is important not to take too much from one plant or tree, instead taking as little as possible from many individual plants.
These images were inspired by the wonderful recipe, styling and photography of Chrisitann Koepke.
Images above show: Handmade Fluted Berry Bowl, Breakfast Bowl, Dinner and Side Plates, Belgian Linen Napkins in Ecru, Pallares Solsona Kitchen Knife, Stone Washed Baguette Cutlery, Hand Dyed Linen Cushion Cover in Isbar, Hand Dyed Velvet Jewel Cushion Covers in Poplar, Kapok Safari Daybed Mattress in Plain Stripes (used as a sofa cover), Handwoven Cotton Cushion Covers in Plain Stripes, Classic French Table Glasses, Textured Merino Wool Blanket (coming soon), Tall Simple Pitcher.