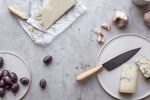 We are always considering ways to reduce the amount of waste that results from the impact of our business. Generating some waste as part of running a store seems to be almost unavoidable but we always try to consider ways in which we can lower our impact on the planet or find ways to get more use out of the materials and products we receive and sell. For example, selling products made from natural materials and using paper rather than plastic packaging is a small step in the right direction. Paper packaging does not reduce the amount of waste produced but it does result in waste that can be recycled once no longer in use. Similarly, where possible, we try to reuse the packaging our suppliers send our products in. The only plastic packaging you will ever receive from us is packaging we've reused from our suppliers.  
We frequently get asked to lend our products to photographers, stylists and magazines for styled photoshoots. At the same time we also regularly shoot our own products in use in order to create all of the images you see on our website and in our journal. Once products have been unwrapped or shot in use we cannot sell them as new products anymore. Over time, this is resulting in an increasing number of items that cannot be sold, at least not as new.
I have been considering what to do with these products for quite a while. After much deliberation, I decided to see if there would be interest in these ex-prop items if we offered them at a reduced price. I put the question out to our community on Instagram and after an overwhelmingly positive response, we have been working on listing some of our Ex-prop items for release in what will be the first of our Ex-Prop sales. 
So if you are interested in obtaining some of our items at a discounted price, don't mind some signs of wear, and love the idea that that exact item has either been in one of our own photoshoots or been featured in a magazine, then you'll like our Ex-Prop sale!
In addition to not wanting to see these products go to waste we also wanted to find a way to thank our wonderful community. These are the people who are signed up to our mailing list, some of whom have supported us from the start. At present pretty much all of our discount offers go out only to our community members. This is one of the perks of joining our mailing list. So as an additional thank you, the people on our mailing list will be informed first any time new ex-props are added to our store. We will send out an email to anyone on our mailing list letting you know exactly when the Ex-Prop sale will go live. Only after several days have gone by will we communicate on other channels that the sale has gone live.
If the first trial turns out to be a success, more ex-props will be added to our store throughout the year. All of these items will always be listed in the OUTLET section only and will be marked Ex Prop in the product title. Each listing will have photos of the actual product being sold along with a description of any of the wear it has obtained. The amount of wear will be reflected in the price so that items with the most wear will also have the highest reduction. All Ex-prop sales will be final and non-returnable.
To be the first to hear about our next ex-prop sale including all items that will be available and their prices, sign up to our mailing list here.
Images show our Pallares Solsona Knife in Big (ex prop) and Small, Eggshell Salad Plates (ex prop), Eggshell Dinner Plates (ex prop), Natural Straw Trivet (ex prop), Stone Washed Flatware Set, Pinch Bowl in matte white, Candle Stick Saucer in matte white (ex prop), Eggshell Tumbler, Eggshell Bowl (ex prop) - all ex props coming soon!