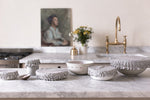 REUSABLE KITCHEN TOOLS AS AN ALTERNATIVE TO SINGLE-USE FOOD PACKAGING
At its core, slow living is about adopting a more thoughtful approach to daily life. What we buy and what we do with the items we buy can play an important role in our attempt to lead a more considered life. At a time of increasing concern about the sustainability of our consumption of objects, many people are dedicating more time to thinking about what they buy, whom they buy it from, how they use what they buy and what happens to these items once they are no longer in use. I like the idea that how we use objects and how long we use them for play as important a role as how items are made, who makes them and what happens to them once they are no longer in use.
In line with this belief in the value of a more thoughtful approach to consumption, I'm really excited to share the latest additions to our Kitchen Collection. Our Cloth Bowl Covers in grey ticking and recycled pink, Bento bags in unprocessed linen and organic cotton, and Utensil Roll exemplify the values of slow living in several different ways: 
Each item has been intentionally designed and produced. Thought and care have gone into every aspect of these products from materials to utility.
They are ethically made using sustainably produced fabrics made only from natural materials that are biodegradable.
They help to elevate simple, everyday tasks making these tasks more enjoyable and more worthy of our attention.
Each item can be used in multiple ways thereby extending its utility and lifecycle.
All of our new additions have been created to encourage a non-disposable approach to the tasks of daily life. Designed and crafted by Ambatalia in California, the philosophy behind these products aims to inspire thoughtful living while helping us to discover the pleasure in daily rituals. The intention behind these ethically made textile goods is to help us to bypass single-use disposable packaging and to encourage a consideration of how we can get the most use out of the objects in our lives.
All Ambatalia textiles are crafted in California using only 100% natural, sustainably produced materials. The Cloth Bowl Covers are made from natural unprocessed linen and a blend of organic cotton and hemp or organic cotton and recycled hemp and are intended to reduce the use of disposable covers such as cling film and tin foil. They are great for covering food to be stored in the fridge but they can also serve as a way of keeping insects out of food during alfresco summer dining or for covering bowls to take to a friend's house. Similarly, our Bento Bags in organic cotton or unprocessed linen have been designed to replace single-use food packaging but serve equally well as cosmetics bags, reusable gift wrap, lunch bags, bread bags or for other small and medium-sized items that need stored, wrapped or transported. Finally, our organic cotton and unprocessed linen Utensil Roll was designed to encourage a move away from the use of disposable flatware and straws but can also serve as a case for anything from pens and pencils, to knitting needles or make-up brushes.
All Ambatalia products are washable and made with care ensuring they will last a long time and can be used over and over again.  More than just being a nudge towards a more sustainable lifestyle, these products are a joy to use. They make simple tasks like shopping for food or bringing ready-made dishes to a friends house more enjoyable, drawing attention to the pleasure within the rituals of daily life.
Find out more about each Ambatalia product in our NEW and KITCHEN collections.
Images above show the Utensil Roll, Bento Bags in Organic Cotton and Unprocessed Linen, Cloth Bowl Covers in grey ticking, Heritage Brass Water Mister, Simple Matte White Vase, Berry Colander, Pouring Mixing Bowl, Pinch Bowl in matte grey, Tumbler in Stone, Eggshell Bowl, Simple Pouring Bowl, Simple Bowl and Spoon and Stone Washed Dessert Flatware Set.