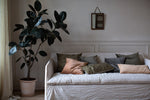 TALLEY'S FOLLY - OUR NEW HAND DYED VELVET CUSHION COVER COLLECTION
We are pleased to introduce our newest collection of velvet cushion cover colours. The collection titled Talley's Folly consists of muted greens and blues juxtaposed with subtle peachy-pink hues. Quiet but hopeful these beautifully washed-out colours work together to create the softest mood. Perfectly in keeping with our familiar, understated colour pallet, our newest colour collection is soft and subtle and so easy to live with.
The collection consists of the following colours:
View our full collection of Hand Dyed Velvet Cushion Covers in the LIVING section of our website. 
Images above show our Hand Dyed Velvet Jewel Cushion Covers in Talley's Folly, Boathouse, Lambent Light, Flooded Cloth, Baton Rouge, Washed Fabric, Faded Panels, Parade Plant Pot, Belgian Linen Bedding in Natural White (coming soon), Sisal Lantern Lampshade, Handmade Linen Bedding in Cream (coming soon) and Belgian Linen Blanket Throw in Ecru used as a sofa cover.