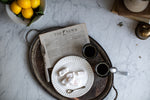 Upcoming Collection of Vintage and Collected Items
We try to run our small business with a lot of care and intention and you can read about some of our values here. Whether it is offering products made from natural materials, preferring to stock products made from a single material that are easier to re-use, recycle and degrade, or using non-plastic packaging, we evaluate our decisions based on our values as much as we do based on aesthetic principals.
And yet, no matter how much thought and care we put into the process of selecting the objects we choose to offer, there is always an inherent ethical dilemma in the sale of new products.
The new resources and energy required to create new products, even when these are biodegradable and produced more thoughtfully, still requires the extraction of raw materials and result in the creation of more 'things' that will eventually need to be recycled or disposed of.
My approach in my personal life as well as the way I run my business is based on two principles I value: conscientiousness and moderation. I am always mindful of becoming dogmatic even for the most ethical causes because dogmatism can lead to the judgement of decisions that do not align with our own values which inevitably leads to the judgement of people whose actions do not align with our values.
I believe we can strive for improvement, making small consistent changes, while also acknowledging the many realities and constraints that act upon all of our decision making. In light of this belief, while there are undeniable and even unavoidable points of value inherent in the sale of new products, there is always a part of me that is searching for additional, complimentary approaches that might begin to address some of the concerns inherent in the sale of newly-produced goods.
Vintage and collected items that have previously been in use bypass some, though not all, of the ethical issues associated with the sale of new items. Vintage pieces offer individual buyers 'new' products without the use of new materials while at the same time reducing waste through the recirculation of goods.
In addition to the environmental benefits of vintage items there is another plus side to purchasing vintage pieces for your home. In a culture dominated by mass-production, mass-consumption and fast-fashion, the ubiquity of trends has seen the increased homogenisation of our lived environments. Individual homes are losing their unique soulfulness to trends that see so many of the same elements repeating across spaces all over the world. Collected pieces and vintage items can infuse a home with warmth and character through their used, lived-in patina as well as their smaller mass-market availability.
We have been considering adding a collection of vintage and collected items to our shop for several years now with both of the points raised above at the forfront of our minds. For the last few months, we have been working on a small collection of hand-selected vintage pieces collected from our travels, and vintage markets across the UK.
Our curation is based on the aesthetic principles of timelessness and simplicity. We select quality items that we hope will stand the test of time and become the vintage pieces of the future. Our existing collection of products pairs beautifully with our vintage items and the items have been carefully selected so that they can be mixed and matched. Simple forms, natural materials, neutral colours and a timeless aesthetic unite all of our products including new items as well as our vintage pieces creating a relaxed and effortless look and feel that we hope will look as good in years to come as it does today.
We will be starting with an initial, small collection of pieces we love and if there is appetite for these items we will aim to release more collections in future.
The initial collection will be released early next year through an exclusive link that will only be available to the people on our mailing list before later being made available to everyone through our web shop.
We are excited to share this small collection with you and hope to see it grow over the years. To get exclusive access to our Vintage and Collected collection upon its release early next year sign up to our mailing list.
Images above show our Brass Water Mister, Coffee Pour Over Stand, Handmade Fluted Stoneware Side Plate and Soup Bowls, Shuro Palm Handbroom, Stonewashed Flatware Set, Classic French Table Glasses and unique products from our new Vintage and Collected collection that include a framed seascape image, tray, candle stick, cutlery, vases and ceramic fruit bowl.