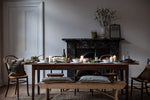 A SIMPLE, NATURAL FESTIVE TABLE
As winter draws in and the nights begin to swell into daylight hours and the chill in the air hurries us indoors, most of us begin to spend more time inside. This year, many of us will be in the position to plan gatherings once again following last year's cancelled or curtailed festive period. 
Gatherings for special occasions are made special by the feasts we prepare and the little touches that make our tables and our homes feel special. There is always a balance to be struck between effort and atmosphere in this regard. While beautifully set tables and decorated houses undoubtedly create a festive atmosphere that sets the stage for memorable gatherings, the busyness of modern life and the sheer volume of things to be done during this time of year can result in a state of tension that overshadows the benefits of the pleasure of gathering with loved ones. 
The perfect festive table setting is one that balances the tension between effort and atmosphere. Creating the feeling of a special gathering does not necessarily require a great deal of effort. A simple tablecloth and some napkins, or a small bunch of festive foliage with a few candles can be more than enough to signal to ourselves and our guests that this is an occasion to be savoured and not just a dinner to be rushed through.
A small amount of effort can go a long way towards fostering a more mindful engagement with the special occasions that punctuate our year and mark the passage of time with rituals that bind us to one another.
As the festive period draws in we wanted to share a few simple tips for creating a warm and inviting festive table:
Nature as décor – the simplest way to decorate a table is to use seasonal foliage. One bunch of foliage from the local florist is enough to decorate an entire table and only takes a few minutes to spread across the table or arrange in a vase. For the final touches that create a warming atmosphere add a few simple pillar candles.
Food as décor – beautiful foods such as nuts, grapes and chestnuts provide a wonderful, simple form of décor. Bowls can be left for guests to help themselves or spread out across the table before the food is served. Once no longer needed they can be given to guests to take home and enjoy.
Simple, thoughtfully selected colours – a limited colour pallet of 3 or 4 colours that complement each other instantly creates visual cohesion and the feeling that everything has been put together with care.
A touch of decadence – adding a little shimmer through a few copper or brass items or adding a sumptuous fabric such as velvet or silk immediately infuses a space with a luxurious feel reminding everyone at the table that the occasion is a special one to be savoured.
Fabric napkins – replacing disposable paper napkins with reusable fabric ones immediately creates the feeling of a special occasion. While a tablecloth is a wonderfully luxurious addition, ultimately simple textile napkins are  more than enough to dress the table.
 Images above show our Shuro Palm Broom, Handmade Fluted Bowls, Dinner and Side Plates, Hand Forged Copper Cups, Classic French Table Glasses, Hand Carved Cooking Spoon in Black Walnut, Hand Craved Condiment Spoon, Pallares Solsona Kitchen Knife, Hand Dyed Velvet Cushion Covers in Arthur's Seat and Winter Loch, Heritage Brass Water Mister, Stone Washed Baguette Flatware Set, Handmade Linen Napkin Sets in Off-White, Handmade Linen Kitchen Towel in Off-White, Shuro Palm Trivets.