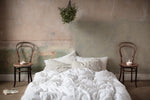 ANTIQUE PLASTER WALLS AND LINEN + HOW TO PROPERLY CARE FOR YOUR LINEN
The more our culture pushes manufactured perfection, the more appealing the complexity of imperfection can become. Signs and traces that appear over time and with age making a person or an object unique. Lines on a face or signs of wear on an object are endlessly more intriguing and beautiful than homogenization in the pursuit of eradicating "flaws". What I find particularly appealing is the juxtaposition of the old with the new, the weathered with the fresh. And interiors, like people, benefit from diversity. Combining vintage and weathered with the pristine and new to create something with soul results in homes that make us feel comfortable; at once easy to live in and full of character. Like two-hundred-year-old walls acting as a backdrop to clean, stonewashed linen bedding. Or vintage thrift-market-found Thonet chairs acting as nightstands for candle holders, thrown by hand on the potter's wheel just a few months ago.

So in the search for something a little more soulful than modern mass production we celebrate the things that give objects character:
imperfections that result from the hand-making process
quality and simplicity that allow objects to withstand the test of time and accumulate the stories that render them irreplaceable
natural materials like linen that only become softer and more beautiful the more they are used and lived in 
These images were inspired by those wonderful natural materials that become better over time. Like stoneware, wood and linen. When cared for properly, these materials mellow over time and acquire a worn-in look or patina that is hard to replicate by any means other than time. And so, inspired by the beauty and grace inherent in the ageing process, we share a few tips on how to properly care for linen bedding to ensure that it lasts for generations.

You can find our instructions for caring for linen after the jump. 
How to properly care for linen:
Linen can last for generations if cared for properly. In fact, what we love most about pure linen is that it actually becomes softer the more it is used and washed.
Selecting the appropriate washing agent is key to properly caring for linen. Many detergents today contain optical whitening agents, and while these can be used for white linens, they are not recommended for coloured linens as they are likely to result in discolouring and spotting.
Although linen has high abrasion resistance when wet it is still best to wash linen as gently as possible.  Additionally, linen doesn't like to be twisted when wet so try to avoid wringing it out where possible. Linen can be tumble dried occasionally but in order to preserve its full beauty as well as the environment, it is always best to let it air dry naturally. A point of note is that while pure white linen can be dried in direct sunlight, this should be avoided for coloured linens in order to prevent colour fading.
Caring for Linen:
Unfold your linens completely before washing
Wash with like colours especially when it comes to white linen.
Avoid overloading the machine.
Wash coloured linens at 30°C and white linens up to 60°C.
Where possible, wash coloured linen on a wool or hand wash program.
When washing coloured linens, check that your detergent does not have whitening agents or bleach.
Pure soap or mild, biodegradable or natural detergents are best, especially in soft water. When linens are not heavily soiled, we suggest using only half of the recommended amount of detergent.
Avoid using fabric softener, though this can be done if washing in hard water. Fabric softeners apply an artificial coat on the line and prevent the fibres from breathing.
Never use chlorine bleaches as these will damage the fibre.
If possible, line dry, it is best for the linen and the environment.
White linen can be dried in direct sunlight but this should be avoided for coloured linen.
If using a tumble dryer, dry on medium heat and remove your linen while it is still slightly damp. Do not over-dry as this will damage the fibres.
Images above show our Linen Bedding in white and dove grey, Cradle Candle Bowls in matte white glaze and matte grey glaze, All Natural Kitchen Twine, A Frame for Life interior design book, Simple Mug in matte white glaze, Amber Apothecary Tobacco scented candle.