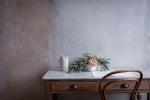 THE APPEAL OF SLOW LIVING IN TODAY'S FAST-PACED WORLD
We live in a world that offers us more choice and more freedom than ever before. But a world where we are free to be the authors of our own destinies and every choice we make traces back to us can leave us feeling overwhelmed at the implications of all of our decisions. The fact that this freedom is a privilege not enjoyed by all around the world makes it all the more poignant.

Today many of us are free to choose our partners, our professions, where we want to live, whether to start a family and how we want to spend our free time. Social media has made it all too easy to be aware of all the options available to us and to show us the huge diversity in lifestyles that we can choose from. Seeing all the possibilities can result in many of us feeling a pressure to do it all. But trying to keep up with everything on display is exhausting. A sort of hurry-sickness can result that leaves us feeling rushed at everything we do while at the same time feeling somewhat disconnected.

The malaise of speed has left many of us searching for an alternative. In a world with so many choices and equally as many distractions fighting for our time, an increasing number of people are discovering what seems like a simple solution: less. Not committing to everything, not following every passing trend, not feeling pressured to keep up with what everyone else is doing. Instead, a desire is emerging to use our time and energy more thoughtfully. Understanding what motivates us as individuals and utilising all of the freedom we are lucky enough to enjoy in order to discover what a truly meaningful life looks like for us.

Feeling overwhelmed by all that modern life seems to demand of us may be one of the reasons why the ideas embodied by the slow living movement resonate with an increasing number of people. These ideas seem to offer a more moderate path; one which encourages us to step away from the excesses which can lead to what feels like a shallow, soulless existence and instead pave the way towards something a little more meaningful.

Slow living involves a commitment to use our time more attentively. It involves a mindful consideration of those values and desires that lead to an increased sense of well-being and those that, however alluring they seem in the short term, ultimately do not.

Slow living is about intentionally negotiating our time in order to ensure we get the most out of every activity we engage in. This often means letting go of the pressure we feel to keep up and instead building a stronger conviction in the value of our own choices. Making time for something means investing that activity with significance and meaning. Living more slowly in this sense is about living more deliberately; considering the meaning, pleasure and purpose of everything we choose to give our time and attention to. Intentionally allocating our time ensures that more of it will be devoted to those things we truly value and not simply spent on those dictated by cultural trends.

In addition to being more mindful of how we spend our time, slow living has appeal because it emphasises the everyday. Seemingly ordinary moments of daily life like preparing a meal, having a conversation with our parents or getting our children ready for school, can be so rich in value and meaning if we choose to engage with them more consciously. When we look back at our lives, many of our fondest memories are attached to what, at the time, seemed like ordinary, mundane moments. A slower pace of living draws our attention to these everyday moments and emphasises the significance in the seemingly ordinary. All those small rituals that infuse our daily life with pleasure and meaning. This notion attempts to shift our focus and attention away from longing for those moments that are extraordinary but rare and instead encourages us to truly savour all that daily life has to offer.

Understanding the true value of what we choose to dedicate our time to offers a steadfast conviction in the validity of the decisions we make. It allows us not to buckle under the pressure to follow cultural norms and passing trends but instead lets us truly savour the things we do, safe in the knowledge that they align with our values and what we want out of life. This peace of mind can be one of the most liberating feelings. In a world with too much information for one lifetime, too many distractions fighting for our time and too many options for how to live a meaningful life, allowing ourselves the time necessary to develop a conviction in the path we have chosen ultimately ensures that the life we end up living will have truly been our own.
To never miss a blog post, get exclusive discounts and see images that will not be published anywhere else sign up for the ILDN mailing list.
 Images above show our Flower Frog and Bowl, Tall Simple Pitcher, Heritage Brass Water Mister, Botanical Dyed Linen Napkin in Stone and All Natural Kitchen Twine