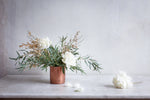 Living in a disposable society means that many things that were once precious have now lost a lot of their value. When prices are driven down by huge manufacturers mass-producing thousands of identical pieces we end up in a situation where most things have little value while our appetite for the new becomes insatiable. Used for one season and then discarded to make way for the next trend. But many of us are starting to consider the fact that this may not be a sustainable way to face our future. 
I love the excitement that bringing a beautiful new object into the house can elicit. The way it can change how the entire room feels to us and draw attention to forgotten corners simply by being there. But there are ways to draw in the excitement of the new without necessarily always having to acquire new things. One way is to choose what we buy more intentionally and then to use these objects more creatively. Rather than always acquiring something new, an alternative is to carefully select what we buy and then find disparate purposes for them that introduce these objects into roles they may not have originally been intended for. This post is a homage to finding lastingly beautiful objects and dreaming up all of the diverse ways they can be repurposed. 
One of my favourite items is our Hand Forged Copper Cup. The story of where and by whom it is created, as well as the story of the beautiful material used to make it capture so much of the essence of a slower pace of life (you can read more about these stories here). But these cups will also come to tell the stories of how they are used, preserving every fingerprint and water droplet within the unique patina that develops over time.
While our handmade copper cup works great for serving water, making every sip feel more special, there are other ways it can be used too. The more creative we are with the way we use the objects within our homes the more pleasure and longevity we can expect to gain from them. So in celebration of allowing our creativity to play a greater role in how we use the objects that surround us, we wanted to showcase three different uses for our handmade copper cups.
Copper Cup Flower Vase
I am guilty of mostly using anything but a vase to hold flowers. From bottles to jugs to cups, I love how the different shapes of the vessels determine how the flowers will sit within them; loose and sprawling within wide vessels like cups or tall and simple when a single bud is placed in a bottle. The rich patina that layers over these copper cups with time and use allows them to become a unique decorative item. Filling them with a short bouquet or a few large open flowers immediately transforms them into a modern desk or bedside vase.
Copper Cup as a Water Vessel
This is how they were intended to be used; to serve ice cold water from. The thermal conductivity of copper ensures that the water stays cooler for longer and their super slim rim makes them a pleasure to sip from. On their own, they are an easy way to make a simple table setting look impressive, but a few creative garnishes can make sipping water from them feel like being served a luxury cocktail. The loveliest aspect of using them to serve water is that the more they come into contact with both water and our hands, the more quickly they will develop their unique patina.
Copper Cup for Storing Brushes
We are currently in the middle of renovating our home and studio so paint brushes are what I had laying around, but these cups can be used for storing any kind of brush from paint to make-up or even writing utensils like pens and pencils. I love the way old used brushes look and so rather than disposing of them after we have painted our walls storing them in a beautiful container and using them as decorative items will serve to tell a little bit about our story. 
We'll be sure to keep dreaming up more ways to use one and the same object and we'll continue to share these with you in future, but in the meantime if you want to ensure you never miss a post, as well as be notified of exclusive discounts you can sign up to the ILDN mailing list.
Images above show our Hand Forged Copper Cup after it has already started to develop its unique patina that unfolds slowly with time and use.