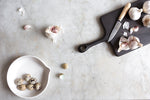 NEW ADDITIONS TO OUR HANDMADE CERAMICS RANGE
Our handmade ceramic products are among the most popular items in our store. I believe this is due to the fact that they perfectly epitomise all that slow living is about:
made in small batches by artisans who run their own small businesses with integrity and care  
made slowly by hand and in stark contrast to the uniformity of mass production. Each product captures small traces of the hand-making process so that no two items are exactly alike

they facilitate slow living activities like cooking, flower arranging, brewing fresh leaf tea or baking
they are simple, timeless objects that will age beautifully and not become obsolete with passing trends
All of our out of stock ceramic pieces are now back in stock and we have some lovely new additions too. To celebrate, we will be sending out an exclusive 10% discount code on Thursday 12th April 2018 that will apply to any of our handmade ceramic items. To not miss this discount code or any of our other exclusive benefits, you can join our mailing list here.
Images above show our Simple Pouring Bowl, Simple Bowl and Spoon, Pinch Bowl in matte white, Pallers Solsona Kitchen Knife in small, small Blackline Cutting Board, small Maple Cutting Board, Simple Matte White Vase and Short Simple Matte White Vase.