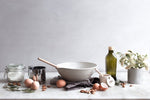 BAKING TOOLS FOR SLOW LIVING
When we strive to do better slowing down can be hard. Creating something of value requires skill, and skill requires time. Permission to stop and reflect, or to slow enough to truly savour an experience can be hard to grant when there seem to be so many miles between where we stand and where we would like to be.  
But sometimes slowing down can be a shortcut to getting to where we want to go. Running the treadmill of more-faster can speed up so quickly underneath our feet that we soon find ourselves running faster than we can keep up with. At this point the fall is inevitable. So, wouldn't it be nice if we were gentle enough with ourselves to allow ourselves to slow just before we fall? Wouldn't it be nice if we could give ourselves the same level of respect and kindness we give to others and allow ourselves the occasional break?
The last two months have been fast. Between running a business and renovating our home and studio, there has been little time to move at anything but full speed ahead. Or so it seemed.
But one morning I stopped. I took a few hours and consciously chose to move at a different speed. I took out the perfect baking tools and a simple cake recipe that I could whip up with few ingredients and little effort. A simple olive-oil and almond cake, not too cumbersome and not too sweet. Ready in just over an hour from start to finish with nothing but honey to sweeten it. 
This cake obtains all its flavour from the honey and the olive oil. They are its raison d'être. So I went down to the local store and took the time to choose these ingredients carefully. I wanted their flavour to be impactful yet mellow. I walked back to our temporary home and took just an hour out of my day to prepare and bake this cake.
These few slow hours punctured my otherwise hectic month. It can be hard to recognise how much more productive it is to slow before we fall. Embracing an undulating rhythm, from fast to slow, no doubt carries many rewards. We should work hard when we can but be kind enough to slow when we can't. For maybe the balance of life lies precisely within the rhythm of these oscillations. 
Images above show our Mixing Pouring Bowl, Eggshell Plates, Stone Washed Dessert Fork, Stone Washed Cake and Pie Server, Small Maple Cutting Board, Botanical Dyed Linen Napkin Set in Stone, Botanical Dyed Linen Napkin Set in Slate, Eggshell Spice Jar, Tumbler in Stone used as a vase, Eggshell Tumbler, Pallares Solsona Kitchen Knife medium, Simple Bowl and Spoon, Tea Strainer Matte White on Ivory, Tea Strainer Matte Grey on Rich Brown