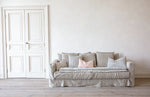 KAPOK DAYBED MATTRESSES AND HANDWOVEN COTTON CUSHION COVERS
We try to ensure that the stories behind the objects in our range are rich in narrative making them worthy of your time and attention. So today I am really excited to share a story that weaves together traditional craft, family, and natural materials. It's the story behind the latest additions to our 'LIVING' collection: our Tensira cotton cushion covers and soft Kapok mattresses.  
Tensira was started by husband and wife team Tuulia and Hamid and was named after the small West African town of Tensira. Inspired by Hamid's mother, a West African artisanal indigo dyer, Tensira was created to preserve and spread the traditional weaving and dying techniques the town has been cultivating for centuries. In collaboration with local artisans, Tuulia and Hamid started manufacturing home goods and soft furnishings that utilize hand-making techniques lost in modern production. From hand-dying fabrics to weaving with traditional looms, to sewing finishing touches with care, each step of the Tensira production process is done entirely by hand, in the way the local craftspeople have been manufacturing for centuries.
Like all of the products we offer, our Tensira range is made from natural materials and consists of custom size Kapok Safari Daybed Mattresses, carefully selected to be just the right size for a daybed or large family sofa, and Handwoven Pure Cotton Cushion Covers. The cushion covers are offered in a range of shapes and sizes and both the cushion covers and mattresses come in a range of timeless fabrics. From the traditional 50cm by 50cm cushion cover size to the more unusual and decorative large and small rectangle sizes, our cushions have been chosen to complement one another so that various fabrics and sizes can be mixed to result in a creative decorative scheme. Our versatile Kapok-filled mattresses can be used as daybed or sofa covers, as small quilts at the end of a bed or on their own, stacked up on the floor. We offer the cushion covers in Breton or Traditional stripes and a soft pale blush fabric. In addition to these three fabric options, the Kapok mattresses are also offered in a simple pale charcoal colour that has the loveliest depth to it.
All Tensira fabrics are made from pure, hand-dyed cotton, and our mattresses are filled with the silky fibres that come from the fruit of the Kapok tree (which you can see in the second image below). Like cotton, Kapok is a completely natural material. The fruits of the Kapok tree are picked and shelled by hand to extract the silky-smooth fibre that grows within them. Kapok fibre is breathable, hypoallergenic and completely biodegradable making it a more environmentally friendly alternative to synthetic fillers. The additional benefit of using only natural materials like Kapok or cotton is that they line up far more elegantly with modern eco production ideals (such as the Cradle to Cradle principle) which give consideration to the entire lifecycle of a product including what will happen to it once it is no longer in use. Unlike polyester, natural materials like kapok and cotton are biodegradable and do not stay within our ecosystem in the detrimental way plastic does.
We hope you enjoy these wonderful handmade objects as much as we do and that the knowledge of how they were created serves to enhance the pleasure and comfort of using them on a daily basis.
Images above show the following products: Kapok mattress in Soft Charcoal, Blush, Traditional Stripes and Black Breton Stripes, Cushion Covers in Traditional Stripes 50 x 50, Blush 30 x 50, Black Breton Stripes in 30 x 50, Traditional Stripes in 40 x 60