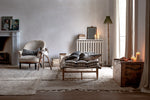 CULTURE, VALUES AND THE AESTHETICS OF HOME - PART 1
This article was inspired by Allain de Botton's book the 'The Architecture of Happiness'. I would highly recommend this read to anyone with a deeper interest in a philosophical look at the aesthetics of place.
Our preferences for the spaces we find beautiful and feel comfortable in and many of our aesthetic preferences are rooted in our common evolutionary heritage. Rather than being arbitrary, many of our likes and dislikes have their origins in our evolutionary history. They were created through natural selection which ensured that we developed a preference for the kinds of places our species could thrive in. We are innately drawn to objects and spaces that ensured our survival and much of what we find beautiful is rooted in brain functions that are the result of what helped our ancestors to survive and thrive.
Understanding that our evolutionary heritage has shaped our likes and dislikes is key to understanding human aesthetics and our sense for beauty. It provides an important foundation for creating objects and spaces we find naturally and intuitively appealing.
Being innately drawn to objects and environments that facilitate our survival is a common evolutionary feature in most animals. But there is something that distinguishes human beings from most other animals that exerts an even more powerful influence on our aesthetic likes and dislikes, namely our culture.
Although the validity of the notion that we are the only species with cultural learning is increasingly doubtful, it is undeniable that the richness of our cultural expression is monumentally different to that of any other animal we share this planet with.
Human culture encompasses knowledge that is not handed down to us through our genes. Our values, norms and beliefs, our customs and traditions and our aesthetic and artistic expressions are all part of our rich cultural heritage. Culture is handed down through generations, it evolves and mutates much like genes do and it responds to selective pressures.
The cultures we immerse ourselves in profoundly shape our view of the world. They shape what we believe and what we value, and they exert a strong influence on what we deem to be beautiful. By directing our attention towards certain ideas over others our cultures can literally influence what does and does not feature in our world. For better and for worse our cultures form the primary beam of attention that shines a light on what we notice. That which we attend to becomes increasingly salient and with this primacy, takes on importance in our world. On the other hand, what we do not attend to, most often does not feature in our reality to a point that we can be oblivious to its existence.
In his book titled 'The Architecture of Happiness' philosopher Alain De Botton highlights this point when he writes that "'Culture' is the word we have assigned to the force that assists us in identifying which of our many sensations we should focus on and apportion value to". Our cultures not only influence what we do and do not attend to but once we have noticed something, our cultural values shape how we evaluate what we perceive. This evaluation has a profound impact on our aesthetic preference and what we do and not deem to be beautiful.
So, while the evolutionary roots of our aesthetic preferences predispose us to favour certain environments and aesthetic principals over others, our cultures exert an even stronger influence on our perception and understanding of beauty. Our genes provide the foundation and set the boundaries of what environments we feel comfortable in and what places, spaces and objects we find beautiful, but it is our cultures that fine-tune these biological predispositions. The lessons we learn from the people around us and the myriad of cultural inputs that come from books, visual images, the media and the internet, have a profound impact on our tastes and can strengthen or override those tendencies rooted in our evolutionary heritage. 
A culture's oral traditions, philosophical teachings, art and media production actively shape the notions of beauty embedded deeply into each individual. Although these notions are felt as deeply personal preference, in fact, more often than not, they are inherited through our cultures. Our likes and dislikes and our understanding of beauty are guided and reinforced by the ideas and images we are surrounded by and introduced to. What we find beautiful is often deeply rooted in what our culture values.
Indeed, aesthetics and values are inextricably linked in culture. Our cultures influence what we ascribe value to and our values in turn shape our notions of beauty. We ascribe beauty to people, spaces and objects that embody or remind us of values we hold in high esteem. Whether it is simple associations such as the strong association between youth and beauty or more complex aesthetic principals rooted in philosophy such as Zen Buddhist roots of Japanese aesthetic traditions, what we value is an integral part of our sense and understanding of beauty.
Throughout history, human beings have striven to liberate the spaces they inhabit from their purely functional purposes. The desire for beauty and the longing to express our most cherished values have shaped the creation of our dwellings to whatever degree our material means and technological advances have enabled us to.
As our technologies advanced, our buildings and spaces could increasingly become shrines to our cultural values. This development was initially constrained predominantly to public spaces or spaces that belonged to the wealthy. But as our material means increased, so too were our homes freed to become the physical embodiment of individual values.
Historically, personal dwellings were constrained by a single dominant cultural narrative as well as limited access to knowledge, technologies and products developed outside of the dominant cultural narrative. But over the last century our societies have grown in complexity at a rapid speed. As our cultures become more individualistic, expressive and diverse our homes are becoming monuments to identity. With increasing means, our personal spaces are becoming vessels for self expression: they are the expression of a curated selection of cultural values, chosen through the lens of the individual.
Over the coming two blog posts I will discuss how culture, values and our sense of beauty are intertwined and how our ideas around a life well lived shape our home environments.
Images above show our Hand Dyed Velvet Cushion Covers in Faded Panels and Boathouse, Safari Daybed, Safari Daybed Mattresses in Soft Charcoal, Plain Stripes and Traditional Stripes, Handwoven Textured Merino Wool Blanket, Handmade Linen and Heavy Linen Napkins in Warm White, Copper Kettle, Shuro Palm Trivets, Copper Tea and Coffee Canisters, The Clerk Coffee Pout Over Stand, Hand Carved Black Walnut Coffee Scoop, Hand Formed Ceramic Plate and Cup in Grey, Stone Washed Baguette Flatware Set, Firesand Crackle Glaze Bowl and Dish, Handwoven Waffle Towel in Organic Unbleached Cotton, Hemp Palm Broom and Hemp Palm Hand Broom, Hand Carved Cooking Spoon in Black Walnut, Hand Carved Cutting Boards in Black Walnut and Curly Maple.