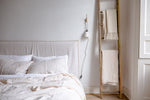 INTRODUCING OUR LINEN BEDDING COLLECTION
We've put together a collection of pure linen bedding that is intended to serve as a timeless base that will last through passing trends. Coloured bedding is beautiful and can add so much character to a bedroom, but it is also more likely to look dated as strong colour-ways come in and out of fashion.
Our linen bedding is made using the highest quality fabric and if cared for properly can last a lifetime. With this in mind, we wanted to offer a design solution that would serve as a neutral base and could last as long as the bedding would.
White and off-white colours are timeless classics when it comes to bedding. Not only is white a bedding colour that will not date, but it also doesn't fade when washed and can be mixed and matched with pretty much anything. We therefore intentionally selected white as the base for our timeless linen bedding collection.
While pure white bedding is a design classic, we wanted to offer something more than just a staple and create a collection that would infuse a bedroom with interest through tonal depth and texture.
We've put together a collection of neutral colours that can be mixed and matched in various combinations and layered to fill a bedroom with texture. Combining different shades of white infuses a space with tonal depth while still leaving it neutral enough to serve as a blank canvas for incorporating other colours and textures.
Our collection is intended to serve for a lifetime. By building up a timeless base of neutrals in key bedding pieces, elements from passing-trends can be incorporated to create very different looks without having to change the quality base pieces. This design idea along with the quality of our bedding ensures that our pure linen bedding collection will not need to be replaced. 
All bedding sets, pillowcases, top sheets and blankets can be mixed and matched to create tonal depth while the top sheets and blankets have also been selected to add texture through layering. Add our woollen blankets for additional texture and cosiness.