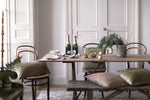 Breaking away from stale ideas and perspectives on luxury, we are beginning to witness the emergence of more subtle, individual definitions of what true luxury can really be. Over the past few decades luxury has commonly been associated with excess. It was brash, bold and ostentatious. But modern luxury is evolving and this evolution is creating space for far more personal definitions.

Rather than defining luxury through overt signals that loudly proclaim that we have style, taste or money, evolved luxury is increasingly moving into the realm of the internal world. It is less about how others see us and more about how we feel. Modern luxury is defined in the creation of deep feelings of personal contentment even when no one else bears witness to these.

And, in our busy, fast-paced world, luxury increasingly seems to be deeply connected to time. Everything that feels luxurious in any kind of a meaningful way is tightly bound up with time. Whether it is about claiming a sense of time for ourselves or a recognition of the time that others have put into creating something of meaning and value. Whether it is the time required to acquire masterful skill or the time required to acquire the knowledge that allows us to deeply appreciate something. In a world that is speeding up daily and pushes us to move at that same unbearable speed, true luxury lies in anything that is brave enough to reject the thrust of perpetual motion and claim the space necessary for quality, depth and meaning.

Modern luxury can be found in the feeling of allowing ourselves to be fully immersed in a conversation to a point where all sense of time disappears. Modern luxury lies in the ability to see something with more depth, clarity and interest because of the time we have invested in acquiring the knowledge or expertise that allow us to see it in this light. Modern luxury is making the time to cultivate a mind still enough to be fully present in this moment.

We can witness the luxury of time manifest in objects as well; things that feel truly luxurious are always things that have had time poured into them. Vintage or antique objects that have witnessed the unfolding stories of many lives and have preserved traces of all the time that has elapsed between when they were made and the present moment. Or new objects that are the embodiment of the time that someone else has poured into the process of making. Process that cannot be speeded up and that never yields the same results if it is. Process that reflect not only the time-consuming techniques required to make the object but also all of the time and effort necessary to acquire and perfect skill.

In a world where we all want more, faster, cheaper, it can seem difficult to accommodate the time necessary to create something with the kind of depth that exemplifies a meaningful form of luxury. But if we could tip our cultural sentiment a little more toward favouring substance and quality over immediacy and quantity, in the practice of being more content with less we might reclaim the time necessary to appreciate and savour more deeply.

A truly evolved sense of luxury has to move away from the superficial and toward the meaningful. Flashy, overt signs of luxury that are ubiquitous and externally imposed are increasingly giving way to more subtle, personal forms of luxury that have deep meaning on an individual level. Being bold enough to define luxury for ourselves through understanding what we value and why and then being brave enough to pursue it with abandon, ignoring the impositions of social pressures, is in fact the true luxury of our time.
Images above show our Hand Dyed Jewel Velvet Cushion Covers (coming soon), Brass Bowl Triplets, Eggshell Plate (now sold out but one ex-prop available here), Stone Washed Dessert Flatware Set and Teaspoon, Classic French Table Glasses, Eggshell Bowl, Tallow Candle in black, Botanical Dyed Linen Napkins in Stone, Heritage Brass Water Mister, Handmade Heritage Copper Watering Can.