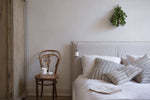 THOUGHTS ON THE FESTIVE SEASON AND INTRODUCING THE DREAMER GIFT SET
I'll admit that I have mixed feelings about our modern adaptation of Christmas. The over-commercialization, the excess and the resulting waste can often overshadow the beautiful traditions of gathering, preparing and sharing a very special meal together, and all those small rituals that make the day feel so warm. Like so much in our society, it can feel like we've taken a beautiful sentiment and pushed it to its extreme until it has been drained of much of the meaning and value that made it beautiful to begin with. 

In much the same way, gift giving can be problematic. Many people feel obliged to spend a large part of their earnings on things their loved ones often don't need and sometimes never end up using. While it's understandable that people don't want to give up what is ultimately a sweet tradition of giving, for me, buying gifts makes sense when it falls into one of two categories. The first is buying something that we know the other person wants, an item they have explicitly expressed a desire for. The second are things that fall into the category of small luxuries: items that often fall to the bottom of the list of things we buy for ourselves because they feel like an indulgence but that make the every day a little bit sweeter. 

Thoughtful objects of use that make small everyday moments feel more special can be such a wonderful thing to receive. Something that elevates the activities of daily life that we may not spend money on ourselves but that creates a sense of luxury and a feeling that we have permission to approach a moment in our day a little more slowly and mindfully. 

I've been thinking about how our store could embrace the holiday season and the warm spirit of gift giving without drifting towards excess. In the end, we've come up with four simple gift sets. Each gift set was created with a specific kind of person in mind and is intended to encourage a little moment of luxury. A small ritual that nudges them to take a restful moment for themselves and savour a few minutes of calm and contentment.

Over the course of this week, we will be introducing each gift set. You'll be able to find the gift sets in the 'NEW' section of our website or in the 'ALL' section and you will be able to read about the moment they were intended to facilitate here on our blog.

We hope you enjoy the idea behind each set and that they make gift giving feel a little more thoughful this year.
Images above show the Dreamer Gift Set which contains the Snake Scented Candle and All Natural Lemongrass Linen Fragrance, Kapok Safari Daybed Mattress in Breton Stripes used an end of bed quilt, Handwoven Cotton Cushion Covers in Traditional Stripes and Breton Stripes.