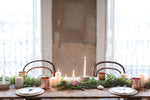 GREEN LEAVES AND COPPER: A TABLESCAPE TO GATHER AROUND
Sharing a meal and good conversation with those we care about is one of life's greatest joys. Gathering around a table with friends and family has been a primary facilitator of relationships for centuries. Ultimately, it is not about food or about setting, but first and foremost about our ability to open up to one another, losing all self-consciousness in the back and forth dance of meaningful conversation. But at the same time, there is something about the care and effort that goes into a planned meal that can infuse a gathering with magic where simple spontaneous dinners have to rely on serendipity. In the process of being hosted by someone who has thoughtfully prepared a meal and an atmosphere, it is almost impossible to hold onto our guard, simply going through the motions of polite conversation. Instead, the care and attention gifted by a host in advance of the gathering result in a feeling of being cherished. I think it originates in the knowledge that our host has dedicated time to us and our needs above and beyond the time they gift us during the meal. And there is something inherently welcoming about this notion.
And so we celebrate thoughtful gatherings and all those friends and strangers willing to invest care and attention into creating a warm and welcoming atmosphere for others. In celebration of this thought, we have put together a simple green and copper tablescape. Styled using a simple bundle of folliage consisting mostly of green leaves and a few evergreen twigs and enhanced by our Cradle Candle Bowls and Hand-forged Copper Cups that add a simple, welcoming warmth to this green and copper tablescape.
And yet, as a final point of note to remember; while thoughtfully planned gatherings are a true delight, most important of all is to gather, no matter the setting or atmosphere. 
Images above show the ILDN Eggshell Plates, Stone Washed Flatware, Hand-forged Copper Cups, Maple Cutting Boards, Cradle Candle Bowl in matte white glaze and matte grey glaze, Eggshell Tumbler used as a candle holder, Pinch Bowls in matte white glaze and matte grey glaze used as tea light holders, Candlestick Saucer in matte white glaze and matte grey glaze.