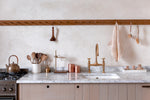 ORGANIC COTTON AND HANDMADE LINEN KITCHEN TOWELS
We are pleased to introduce our beautiful new handmade linen and organic cotton kitchen towels. Our linen kitchen towels are offered in a choice of classic slubby linen or a stitched-finish that creates a waffle effect. Both are available in a choice of warm cream or off-white colours. Our other new addition is a handwoven and hand-finished organic cotton towel in a thick and luxurious waffle weave. All of our new kitchen towels are simple, beautiful basics that add texture and interest to your kitchen shelves, hanging rail or countertop. You can read all about what makes each item special in our detailed product descriptions:
We hope you'll like them as much as we do!
Images above show our Handwoven Waffle Towel in Natural Unbleached Organic Cotton,  Handmade Waffle Linen Kitchen Towel in Off-White and in Cream, Handmade Linen Kitchen Towel in Off-White and in Cream, Copper Kettle, Classic French Table Glasses, Clerk Coffee Pour Over Stand, Handmade Linen Napkins (coming soon), Organic Handmade Ceramic Cake Plates (coming soon), Stone Washed Cake and Pie Served, Stone Washed Flatware, Stone Washed Baguette Flatware, Hand Dyed Velvet Jewel Cushion Cover in Faded Panels, Handwoven Cotton Cushion Cover in Soft Charcoal and Plain Stripes, Handmade Linen Waffle Blanket in Cream (coming soon), Hand Carved Cutting Board in Curley Maple and Black Walnut, Handmade Fluted Berry and Fruit Bowls,  Natural Hemp Palm Broom and Hand Broom, Natural Shuro Palm Trivets, Brass Water Mister, Copper Tea and Coffee Canisters, various Natural Dish Brushes, Handmade Fluted Utensil Holder, Handmade Cooking Spoon in Black Walnut and Sweet Gum, Handmade Spatula in Sweet Gum, Firesand Snowflake Crackle Glaze Bowl, Pallares Solsona Kitchen Knife