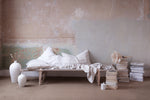 DECORATING WITH PLASTER WALLS, BOOK STACKS, AND A DAYBED
Striving to transform that which limits us into a creative force. It's tempting to feel that if we had a little more we could do what we set out to achieve. It's tempting to wait until we feel like we know what we are doing before we start. But the limitations of our situation can be the greatest drivers of creativity. And the joy of learning and mastery breathe a unique kind of wind into our sails that propels us to move far greater distances than we otherwise would. 
We had many goals for this year that involved a completed home and studio. But things always turn out slightly differently to how we plan. Six months in and we are still among ancient bare walls surrounded by a few antiques and foldable pieces of furniture and not much else. And yet, these bare plaster walls have grown on me. I increasingly see their colour and texture as a beautiful, inspiring backdrop and not an unfinished work, waiting to be fixed. As I look forward to the year ahead, I wonder if these stacks of books and softly coloured plaster walls that decorate our bedroom will charm me enough to manoeuvre their way into our final plans for this space. Not what I had expected, but sometimes the unexpected ends up being so much more beautiful than that which we plan for. 
Images above show our Linen Bedding in dove grey and white, Ivory Feather Duster, Octopus Scented Candle, White Decorative Vases in small and large, Ilse Crawford's A Frame for Life book and Steven Pinker's The Better Angels of Our Nature book.