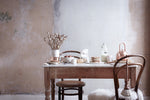 SLOW SATURDAY BREAKFAST WITH HANDMADE TABLEWARE
As the world seems to turn faster every day, time is becoming the biggest luxury we dare to allow ourselves. Every day offers small moments worth our attention. But when we rush through the day, they can be almost impossible to notice. So I make myself slow. Slow so I can take the time to pay attention to the world around me and all of those seemingly ordinary moments. When I look a little deeper, I notice that in fact, these moments are the very thing I work so hard for. In light of this notion, I try to take my time where I can. Occasionally, when the weekend comes around, I set the table whether we have friends over or not. I use little cues like fragrant foods or handmade ceramics full of texture, to create an atmosphere that will draw attention to all of the things worth fully attending to; the texture of how things feel in hand, the smells that are so inviting in the morning like cinnamon and coffee, the taste of homemade food. But most of all I try to savour the company of those I share my table with. It should really be no different whether we fill our plates in the kitchen or bring everything out onto a set table but those meals were thoughtfully laid out tableware and culinary delights sprawl before me seem to create a sense of permission to linger. So here's to slow Saturday breakfasts that remind us that many things worthy of our attention will only make themselves seen if we create an opportunity to notice them. 
Images show the ILDN Pinch Bowls in matte white and matte grey, Natural Handwoven Trivet, Hammered Copper Bowl, Tall Simple Pitcher, Stone Washed Flatware, Berry Colander, Eggshell Spice Jar, Eggshell Plates, Eggshell Tumbler, Copper Kettle, and Pearwood Dusting Brush in white.