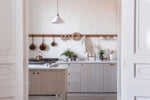 POTTED PLANTS FOR INTERIOR DECOR
Incorporating plants and foliage into interior decor is one of the loveliest ways to create a natural home and to bring an interior to life. Plants, flowers and foliage, whether fresh or dried add colour and texture to a room, creating a natural look and feel. In addition to adding texture and colour, potted plants add life into a home, not only contributing to the look of the room but also changing how it feels to spend time within it. Living potted plants can improve the quality of the air within a space and the correlation between plants and wellbeing more generally has been highlighted through scientific research time and time again.
Beyond the physical and emotional benefits, potted plants also have the ability to create very different moods within a decorative scheme depending on which plants are chosen. Consider the differences in mood between a room filled with austere cacti, tall exotic palms evocative of times gone by, or moody, magical ferns and hanging plants.
As part of creating a natural home, we have wanted to introduce potted plants into our product offer for quite some time now. And while we didn't want to offer the plants themselves, we did want to offer the perfect pots to house them in.
As ever, we wanted a product made from natural materials, skilfully crafted with care and consideration for ethical and environmental factors in production. But we also considered design and durability. We tested a few pots but found many to be brittle and fragile. Others were simply too ordinary: while we did want a simple, timeless design, we were also looking for an element of something that would make it just a little special.
We were pleased to find a company that shared our values in all aspects from production, to quality and aesthetics. Designed in Denmark and handmade in a small, family-owned workshop in Tuscany, Berg's Potter have been making the highest quality terracotta clay pots since 1942. With sincere respect for the ancient earthenware craft, each pot is handmade in the heart of Tuscany by a passionate Italian family of clay artisans.
Unlike many other plant pots, our Copenhagen and Parade pots are made from the highest quality clay and are not finished with chemical treatments. This allows the clay to absorbed moisture and stay breathable creating the perfect conditions for plants to thrive. Each pot has proper drainage and comes with its own saucer that has been lightly treated with a silicone cover that makes it waterproof. However, the clay from the pots themselves is left bare. When the clay comes into contact with water it absorbs the moisture allowing it to pass through. This feature not only allows the plants to thrive but results in a beautiful patina that builds up slowly over time as a result of the water's interaction with the clay. 
Offered in two simple designs, with our Copenhagen pot being slightly more ornate, and two neutral colours, each pot comes in a choice of three sizes perfect for tables, mantels, shelves or bedside cabinets.    
You can learn more about our handmade terracotta pots and discover all the variants we offer in the NEW or LIVING sections of our website. And to never miss any of our new product launches, get access to exclusive sales and discounts plus 10% off your order join our community by signing up to our mailing list.
Unfortunately, due to the weight of these clay pots they are currently only sold within the UK, however, if you live outside the UK and are interested in purchasing one, please send us an email at hello@ingredientsldn.com.
Images above show our Copenhagen Pot in Light Rosa and Grey, Parade Pots in Antique Rosa and Grey, Copper Kettle, Cloth Bowl Covers, Eggshell Spice Jar, Belgian Linen Napkins Set in Ecru, Simple Ceramic Mugs in matte white and matte grey, Rice Root Pot Scrubber, Copper Scrubber, Milk Bottle Brush, Coconut Fibre Brush, Natural Dish Brush, Blackline Cutting Boards, Hemp Palm Broom, Sickle Shaped Dusting Brush, Pearwood Dusting Brush, Tallow Candle, Maple Cutting Boards, Iconic Unglazed Mortar and Pestle, Heritage Brass Water Mister.