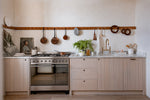 THE DETAIL MAKES THE DIFFERENCE
There are design aspects that can seem so small that they are practically unnoticeable. But the more I work with objects and use them to shape the feeling and atmosphere within spaces, the more I begin to notice and understand that it is in fact precisely those seemingly insignificant details that make all the difference in creating the overall feeling in a room. It is only through learning to attend to the details mindfully that we can begin to create the story of how we want our home to feel.
Many of the details that will ultimately shape our homes into what we want them to be will be acquired slowly over time. This process cannot be rushed, nor does it need to be. Having the patience to allow our homes to evolve slowly alongside us and our lives always has the most impactful results. The authenticity of the stories that homes that have been put together slowly over time is unlike that of homes that have been designed to the very last detail in one go. But learning to attend to these details and learning how to select them with intention will allow us to make decisions we will stay content with for years to come.
Below I have put together a few suggestions for some of the details I have found worth attending to.
Proportion – Small variations in thickness, size and positioning can make a big difference to the look and feel of an object and ultimately to how it sits within a room. It may sound obvious, but how often do we stop to consider the thickness of the marble or wood on a worktop, the thickness of a peg rail and the proportion of the spacing between each peg or how deep or shallow a claw foot bathtub is and how the positioning of the feet will impact the overall look and feel? Slimmer proportions like slim peg rails or worktops tend to make objects and rooms look sleeker and more modern, while thicker designs have a more rustic look. When we discover a design element we like (such as a peg rail), it can be worthwhile trying to find similar examples with slightly different proportions to consider which we like best and why. All of the proportions of the objects we select can either work together to tell a harmonious story or they can stand alone working against one another while pulling an interior in too many directions to tell a coherent story.
Wrinkled and scrunched up vs ironed fabric – from unironed linen bedding to long curtains that bunch up on the floor, under-stuffed cushions that allow the folds of the fabric to highlight the texture and colour of the material to slouchy upholstery. Ironed and taught fabrics create a crisp, clean, and elegant look while loose, wrinkled and slouchy fabrics create a much more relaxed feeling. Additionally, folds in fabrics such as velvet allow the colours to reflect in multiple ways adding depth and interest. Cushions are a wonderful example of the difference that taught vs slouchy fabric can create. Over-filled cushions create a more fancy look while heavily underfilled cushions that slouch in on themselves create very vintage, carefree look and feel. It is worth attending to what you find more appealing and why.
Lighting – the mood of a room can be entirely determined by lighting. Low lighting creates a very different feeling in a room to bright overhead lighting. Opting for multiple dimmed lights at or below eye level is a simple way to create a warm welcoming atmosphere reminiscent of being around a fire. Whenever you are in a room you feel very comfortable in it is worth paying attention to the lighting conditions to begin to understand what appeals most to you and why, whether that is soft diffuse sunlight or the brightness and positioning of artificial lights.
Texture – a variety of textures adds depth and richness to a room when compared with bare, or uniform finishes which tend to be more clinical. Texture can be added in the form of textured walls (wood panelling and wooden boards, Venetian plaster or limewash, tiles both on walls and ceiling, or bare brick and stone), furniture (various fabrics such as linen, materials such as wood, and aged and antique finishes) or décor (textured ceramics, fabrics, old books, and many more). While the stark sterility of texture-less finishes can be precisely what is needed to create a certain look and feel, more texture tends to be the easier way to add interest to a room, making objects and interiors feel warmer and welcoming. As always it is worth simply attending to what speaks the most to you personally and why.
Fabrics – fabrics add softness and warmth to an interior and can tell a story. Linen tends to be more relaxed due to the uneven slubs that are so typical for the linen weave. Vintage linen with its worn and faded look even more so. Fabrics like velvet on the end other hand tend to be much more glamorous and dramatic while cotton is a humble, unassuming fabric. Using fabric with intention can be the easiest and most effective way to create drama in an interior or to create a more comforting and relaxed look and feel.
Material finish - whether floorboards or a piece of furniture are finished with wax or oil, paint or a high gloss varnish can create a very different look and feel in an interior. Glossy finishes tend to look more artificial. This is not necessarily a bad thing, but the finish of a piece of furniture or object can deeply change the atmosphere it evokes. Matte finishes (whether on floors, walls or objects like ceramic) and bare, waxed or oiled wood create a much more natural look when compared to glossy finishes. Additionally, old or antique finishes that have chipped and blistered and acquired a patina over time infuse objects and furniture with texture and depth which in turn shapes the atmosphere within the room they are in.  
In design, there are no right or wrong answers, but the choices we make can either work together in harmony to create one coherent feeling and tell a unified story or they can clash, tugging and pushing against each other. Each one of us has our own unique preferences that serve to tell our own unique story. Only by learning to attend to all the little details can we begin to tell a story that feels unique and authentic to us and the way we want to live.
Images above show our Natural Shuro Palm Trivets, Snowflake Crackle Glaze Bowl and Dish Set, Belgian Linen Napkin in Ecru, Copper Ketel, Natural Hemp Pal Broom, Organic Cotton Hand Towel, Scrubbing Brush, Rough Scrubbing Brush, Natural Coconut Fibre Brush, Natural Dish Brush, Handmade Fluted Utensil Holder, Handmade Fluted Berry Bowl, Handmade Fluted Side and Dinner Plates, Hand Dyed Vintage Linen Cushion Cover, Handwoven Cotton Cushion Cover in Breton Stripes and Traditional Stripes, Tall Simple Pitcher, Classic French Table Glasses, Parade Pot in Soft Grey, Pallares Solsona Flat Kitchen Knife, Cloth Bowl Cover Set, Pearwood Dust Brush, Maple Cutting Boards, Natural Cutting Board Oil, Iconic Unglazed Mortar and Pestle, Stone Washed Flatware