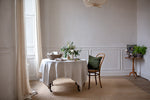 THE VERY HUMAN TENSIONS OF FREEDOM AND BELONGING
If there is a single element of the human condition that defines us and our existence above all else, it resides in the tension between our need for freedom and our need for belonging. To be human is to live with contradiction and opposing desires that so often seem at odds with one another.
We yearn for belonging, but we want so deeply to be free. We feel most contented with the security of stability and yet we long for the kind of growth that can only come from change. This tension and how we navigate it accounts for much of the strain we experience in our individual lives and in society at large.
For most of history, the freedoms granted to individuals were limited. Traditions were unquestioned and conformity par for the course. This way of living provided structure, security and a rooted sense of self deeply connected to the community and the past. It also offered a framework, not just for how to act, but also for how to think and often even what to feel. People knew who they were, their identity embedded within their community. They were clear on the right way to behave and the right way to live which offered a tremendous sense of comfort and belonging.
But when conformity acts as the glue for community there is little room left for freedom and individual differences. For those who did not or could not conform to the norm, life was difficult.
Over the last three centuries, things have changed. Receding existential pressures have seen freedom rising and what used to be defined by obligation and duty has now been opened up to personal choice. The unprecedented level of freedom modern Western cultures enjoy provides the bedrock for individuality, autonomy and agency creating an opportunity like never before for people to carve out a life that feels authentically their own.
The result of this newfound freedom is both the gift and the challenge of creating identity and discovering individual meaning. Within the context of a society that has little in place to ensure our bonds and connections with others are nurtured, this challenge has left many people with a deep sense of loneliness. So much of our current culture derives its energy from habits and behaviours that foster an inability to attend to one another fully or connect in ways that bridge the gap between the self and the other. People are faced with the enormous challenges of creating identity and meaning while juggling the duties of daily life and nurturing fragile bonds without any guidance or a framework for how we might achieve this collectively.
And yet, in spite of the challenges that face modern society, evidence points towards the idea that for more people than ever before, life is better than it was in the past*. In spite of the new challenges that face our generation, the answers to how we ought to move forward will not be found by looking to the past.
Integration and belonging are key for thriving societies and individuals. But freedom is too. What's left are the questions of how we can pursue our own sense of meaning and still create belonging and how we can cultivate individuality and diversity but stay integrated?
The work for the individual is to reconcile these seemingly opposing forces into an interdependent dynamic balance. The work for our generation is to integrate a sense of responsibility into our values. We need to learn to cultivate those beliefs and practices that yield not only individual but also mutual benefits fostering a common sense of well-being.
According to Abraham Maslow, the deepest source of satisfaction for a self-aware species is fulfilment. For hyper-social beings like us, fulfilment as a society will never be achieved through solitary pursuits. Instead, a true sense of fulfilment comes from working in service of something greater than ourselves. Having evolved as a cooperative species it is only within cooperation that our societies can thrive.
The mastery of a life well-lived is the mastery of integration. To learn to integrate the opposing needs for freedom and belonging and to learn to integrate our individual existence into something larger than ourselves is to learn what it means to thrive.
* Denotes a reference to Christian Inglehart's book Freedom Rising 
** Denotes a reference to Steven Pinker's book Enlightenment Now 
This article was inspired by the immensely important work of Ronald Inglehart and Christian Welzel as well as the thoughts and teachings of Esther Perel.
Images above show our Hand Dyed Velvet Jewel Cushion Covers in Walden, Belgian Linen Tablecloth in Ecru, Belgian Linen Napkin Sets in Ecru and Raw Umber, Tall Simple Pitcher, Sisal Lantern Lampshade, Heritage Brass Water Mister, Copenhagen and Parade Plant Pots in Soft Grey