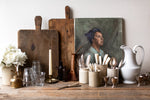 The Enduring Appeal of Vintage: Why We Love Vintage Home Décor
As we prepare to launch our second Vintage and Collected Collation, I find myself reflecting on the many and varied merits of decorating our homes with vintage pieces. I wanted to mention a few of these points, reiterating why I am so pleased to be offering some vintage items in our shop alongside our permanent collection.
Ethical, Environmental
One of the main advantages of decorating using vintage and found (ie. second-hand) items is the many environmental benefits that these pieces have over buying new products for our home. Consumption and waste production in the modern Western world have reached a level that feels entirely unsustainable. The majority of new products sold require the use of raw materials and energy in order to be manufactured. Additionally, trend-focused cycles of modern consumption see products manufactured for seasonal use rather than longevity. These short life cycles create an enormous amount of waste not only through the waste of the raw materials and energy used to create them but also in the land, sea, and air pollution they create when no longer in use. Buying vintage home goods contributes to reducing the use of raw materials, energy, and waste by re-circulating and thereby extending the life-cycle of products that have already been made.
Quality, Timelessness, Individuality
Homes that incorporate vintage and antique pieces have a timeless quality that stands out with the flow of passing trends. The incorporation of vintage items into our homes has a kind of inoculating effect against the look of datedness as a result of shifting trends. Because vintage and antique pieces occupy their own timeless style niche they have the unique ability of doing the same for our interiors. By their very existence many decades or centuries later, pieces that have stood the test of time demonstrate their quality and enduring appeal. In a world of mass production where low quality, low cost pieces ubiquitously fill homes across the globe, vintage items infuse spaces with a sense of enduring quality and individuality.
Rich, Characterful Interiors
A home décor scheme that incorporates vintage items has a richness, unlike the flatness and sterility of mass-produced, trend-focused décor. Due to their age but also the fact that many vintage items come from a time when objects were made or finished by hand, vintage pieces tend to be more unique, making the interiors they fill more individual and characterful too. Each new vintage piece incorporated into a modern interior brings with it the character and depth inherent in its storied past.
Comforting Warmth
Homes that incorporate worn and well-loved pieces have an instantly warm and comforting feel to them. There is something about objects that have acquired a patina, slowly over time, that adds a richness to them that cannot be recreated in new pieces. Spending time in spaces that have well-used objects subconsciously signals to our minds and hearts that this is a space we can relax in. We don't need to keep up the pretence of perfection; we can let our guard down to settle in and feel at ease. What's more every vintage item comes with a story that speaks to us of the continuity of our place within the greater scheme of human culture. We are not the owners of vintage pieces, we are simply their current keepers before we too will eventually pass them on to someone else.
A Slower, More Considered Approach to Decorating
Decorating with vintage items encourages a slower approach to creating our homes. Searching for an item that is just the right size or colour can take time. And because vintage products tend to be one-of-a-kind items, they encourage us to slow down when decorating our homes. This in turn creates a more thoughtful decorative scheme compared to purchasing everything all at once. Our homes become individual to us, tailored to the slow unfolding story of our unique life.
We are happy to be able to offer a unique selection of vintage items in our upcoming Vintage and Collected Collection. You can see many of the unique pieces that will be available for sale in the images below. As most of these pieces are one-of-a-kind items initially they will be released exclusively to the people on our mailing list in order to give them the best chance of purchasing the item they want. Subsequently, any remaining items will be released to everyone else through our online shop. To gain access to the collection you can sign up to our mailing list and you will receive an exclusive access link once the collection is live. 
Sign up to our mailing list here.
The images above show many pieces from our upcoming Vintage and Collected Collection as well as our Handmade Fluted Side Plates, Copper Tea and Coffee Canisters, Handspun Cotton Cushion Covers in Ecru, Shuro Palm Trivets, Handmade Fluted Utensil Holder, Classic French Table Glasses, Handmade Linen Napkins in Off-White, Copper Bundt Cake Mould, Vintage Transferware Plates, Shuro Palm Broom and Hand Broom, Hand Carved Black Walnut Cutting Board, Brass Water Mister and Handmade Linen Kitchen Towel in Taupe Grey.