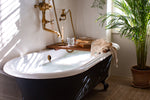 OUR HANDWOVEN ORGANIC COTTON TOWELS
Our Handwoven Organic Cotton Towels are a timeless staple that will last for decades. Made from the highest quality unbleached organic cotton, they are thick, bouncy and incredibly soft. Each towel is finished with delightful hand knotted tassels that are eye catching, adding interest to an otherwise simple design. 
We added these towels to our range a few years ago and they have been popular across the globe ever since. You can read more about how they are produced in our original blog post as well as the slow method of breaking them in in order to increase the absorbency of the unbleached organic cotton.
If you have any questions, don't hesitate to get in otuch with us at hello@elleihome.com.
Images above show our Handwoven Organic Cotton Towels in Ecru, Handwoven Organic Cotton Striped Towels in Ecru, Vintage Storage Jars, Classic French Table Glasses.