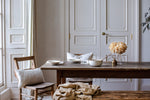 OUR NEW RANGE OF SPECKLED MATT GLAZED STONEWARE CERAMICS
We humans are fully embodied creatures. We take the world in through all of the senses available to us. Then, sifting perception through emotion, we gain a sense for how we feel about what we perceive, and finally from this feeling our world of thoughts begins to emerge.
The pleasures of experiencing can be amplified when taken in through multiple senses. This is particularly true for the pleasure of eating. When we eat, we don't just use our sense of taste to enjoy what we are taking in but also our sense of sound, our feeling of texture, our sense of smell and our sense of sight to enhance the full joy that food can bring.
While the ritual of preparing, consuming and sharing food is a complex and varied part of the human cultural repertoire, undoubtably, for many of us the way in which food is presented plays an important role in the pleasure the experience of eating can offer us.
With the idea in mind that we consume food through our eyes and hands as well as through our mouths and noses we wanted to offer a set of handmade ceramic dishes that would enhance the everyday experience of cooking and eating at home. Designed with both function and aesthetics in mind our Speckled Matt Glazed Ceramics are created for everyday use with the intention of enhancing the pleasure of fresh, homemade meals.
While the ceramics collection is designed to make ordinary meals feel a little more special, the dishes are nevertheless functional objects intended for everyday use. The plates are designed with an elegant rim that prevents saucy food from spilling over. The cups have a comfortable handle and are neither too large nor too small. The bowls are sized to accommodate everything from small portions of dessert to large servings of stew or ramen.
Aesthetically, and in terms of how the dishes feel in hand, the speckled clay combined with the matt white glaze creates a smooth, powdery surface that is as pleasurable to hold as it is to look at.
From serving homemade granola and yogurt for one to making ramen or pasta dishes for friends, this handmade ceramics collection makes every meal a true pleasure to savour.
Designed in collaboration with Skye Corewjin, each plate, mug or bowl is handcrafted by Skye in her London studio. Skye throws each dish individually on the wheel before engaging in a multi-step crafting process that spans over several days.
These dishes are created for enjoyment, whether they are sitting on the kitchen shelf, in daily use for breakfast, lunch, and dinner or enjoyed on special occasions and gatherings.
Our Speckled Matt Glazed Stoneware Ceramics Collection includes: