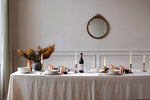 HOW WE SOURCE OUR VINTAGE AND ANTIQUE PRODUCTS
I have often been asked how we select the vintage and antique pieces for the shop. As we work on the release of our new Vintage and Collected Collection I wanted to share a little bit about our process.
Narrowing down: The first part for the process is a simple narrowing down of what I am looking for. The markets we go to have thousands of beautiful products that are different every time. This uniqueness is the beauty of vintage and antique items. It also means we never quite know what we will find. The first stage involves disregarding anything that does not meet our requirement for size and/or weight. There are so many gorgeous large pieces at these markets and fairs but our business is not currently set up for shipping large items such as furniture or large decorative objects. This means that as difficult as it is to ignore these gorgeous items, with limited time (we usually only have one day at each fair) I have to ignore anything that doesn't meet our shipping requirements. This quickly narrows the search down right from the get-go. 
Narrowing down, style: The second stage of narrowing down involves style. There are many objects and items that I personally like but that do not align with our store's aesthetic. Preserving our shop's visual identity means narrowing down the criteria for which products do and do not align with the overall look and feel of Ellei Home. I therefore try to ignore all the lovely items that do not align with our shop's aesthetic: nothing bright, polished or new, too decorative or ornate. Instead, I focus on natural materials, aged pieces or objects with a rich patina, neutral colour, simple and timeless design but with something slightly special.
A simple design with something special: I'll expand on this final point as it is one that is key for guiding my visual search. When thinking about timeless pieces that will look good years or even decades down the line, simplicity is often key. The more understated a design is the more likely it is to be able to blend in with a variety of styles and therefore stay relevant through passing trends. However, if an item is too plain, without even a hint of something that catches our eye, it can make objects feel bland and lifeless. The perfect balance for me is a simple design with a little something extra. For example, I usually choose simple cutlery designs, but I look for a rich patina and something that helps it to stand out: a pattern on the handle, a quirky cut to the tine, a decorative element on the neck. Nothing too over the top but eye-catching enough to make the set feel unique while still remaining elegant, understated, and timeless.
Versatile staples: We come across many truly unique pieces, but we are also always looking for certain staples that I adore and think work well in many different kinds of interiors. A few of the pieces we are always on the lookout for include vintage wooden stools (these can be used as bedside tables, additional seating, drinks rests beside a sofa, or large plant pot holders),  vintage wooden cutting boards (I love these because they can infuse an entire kitchen with that vintage look simply by adding two or three of these boards), vintage cutlery (these can be mixed and matched with new flatware for a collected look and feel), and brass candle holders (vintage brass candle holders look great in almost every style of home). We can usually find at least a few of these pieces at every market or fair we go to so I always keep my eyes open for them.
Material and colour: A further important selection criteria is material and colour. We always go for natural materials such as wood and clay, fabrics such as cotton or linen, and metals such as brass and copper. I like to select neutral colours that provide a versatile base onto which our customers can layer their own style. Rather than offering loud, bright, eye-catching pieces, I select warm items in muted colours with a rich patina. These pieces add character without overpowering a decorative scheme. Whether it is an aged brass candle holder or a simple clay vase, the idea is that they can blend into a variety of decorative schemes and look good mixed with flowers and candles in neutral colours as well as provide the base onto which bright and vibrant colours can be added.
Creating a collection: finally, I like to consider how all of the pieces will look together. Mixing and layering is what gives stylish interiors that creative, collected look that distinguishes them from interiors that look like every item was bought all at once. I want the items we offer to work well together and enhance one another so that when purchased together they add up to more than the sum of the individual parts.
Art: I am always on the lookout for art works. I am looking for pieces that are not too large and with a calming or creative theme. I am always drawn to landscapes, still life, and art that captures something of the creative process (from cooking to agriculture to paintings of artists or musicians). But the single most important element in selecting an artwork for the shop is colour. Muted colours allow art to blend in with the colour scheme of our permanent collection enhancing any other products purchased alongside them as well as allowing the piece to blend more easily into a variety of homes. Finally, if the art work is framed, the frame itself needs to be simple, elegant, and enhance rather than detract from the art work (a lovely patina to the frame is a bonus).  
My final selection criteria is the one that is impossible to accurately explain. It is always frustrating to hear something like this mentioned when someone is explaining their process, nevertheless, it is a crucial part of my selection process: does the item speak to me? Does it capture my attention or my heart? While difficult to capture in words it is a skill that can be honed over time. Continuously reflecting on what we like and why, what captures our attention and what unites the objects that we grow to love more over time rather than tire of, is like a muscle. The more we use it the easier it becomes to exercise this skill and slowly, with time and patience, we begin to develop our own unique style.
It's important to remember that everyone gets it wrong sometimes. I put great care into my product selection and over the years I have honed the skill of selecting lovely pieces I am proud to stock in our shop. However, each time I go for a buying trip I will get something wrong. I'll be too quick and not check a product over well enough and discover later that it has a crack, dent, or blemish that is just too intrusive to pass on, or I will select a product that felt good at the time but out of the context of the jumble of the antiques market just looks odd and unappealing. Part of creating a collected home is that every so often we will get it wrong. A piece that looked great in store or a market just doesn't work in our own home. When this happens, I tend to find different ways of passing the item on, whether it is giving it to friends in whose homes it would work, or selling it at a second hand market.  The point is that no matter how much we hone our skill, occasional errors are unavoidable, and that is part of the process.
For me, vintage pieces are a joy to collect. Sourcing new items from antiques markets can feel like a treasure hunt and I love the pleasure of looking through our finds, over the following weeks while we prepare them for our new collection release. While these trips are very time consuming and preparing our collections very labour intensive, I have come to value the Vintage and Collected collection as an integral part of our store's offering and love how it adds character and uniqueness to our product range.
As a thank you to the people signed up to our mailing list, and because most of the items in these collections are one off pieces, we release our Vintage and Collected collections exclusively to the people on our mailing list first before later making any remaining items available to everyone through our shop. This gives our email subscribers the best chance of purchasing one of the unique items before they are released to everyone else. If you would like to gain access to the collection once it is released, be sure to sign up to our mailing list.
Images above show several new items from our upcoming Vintage and Collected collection as well as our Handmade Linen Tablecloth in Warm White and Handmade Linen Napkin Sets in Off-White, Sisal Lantern Lampshade, Handmade Speckled Matt Glazed Ramen Bowls, Breakfast Bowls, Side and Dinner Plates, Classic French Table Glasses, Hand Forged Copper Stacking Cups, Handmade Linen Kitchen Towel in Hay, Brass Water Mister and Handmade Crushed Linen Blanket in Hay.