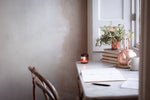 REFLECTIONS ON THE YEAR PASSED
Endings draw in a time of reflection and a year's end is no different. I am less convinced about the value of resolutions but I do hold conscious contemplation of what has just passed in high regard. Stepping out of routine daily thoughts to reflect on occurrences with some distance can be sobering and helpful for gaining a different perspective. So as the year draws to a close, I sit at my desk and take a few moments to look behind me and reflect on what I have learned, what I am proud of, and all there is to be grateful for.
Moving through this year has been a humbling experience in terms of timings. I learned that timelines for ambitious projects never quite work out as planned. We were hoping to have our studio ready for Christmas. Instead, it will be more like next summer. This delay has had a huge impact on many of our plans and goals and it's easy to get frustrated by the impact it has had on our trajectory. Ultimately it has been a humbling process full of learnings; somethings are and always will be out with our control. Recognising when to double down and push harder and when to accept a change of course as a learning is a true challenge. But there is something to be gained from every setback, every obstacle and every change imposed upon us when we decide to accept what we can not change and wilfully chose to see it as a learning.
I am proud of the direction ILDN is developing in. We are a concept store so have always thought very carefully about our product curation, however, the parameters that drive our decision-making are becoming increasingly ambitious and I feel that this is precisely where the value of our store lies. There are several boxes a potential new product needs to tick before we will even consider adding it to our collection. Natural materials are a  must. Cotton, linen, wood, stoneware and pure metals that are easy to recycle are not only more environmentally friendly but are also far more beautiful and comfortable to use and live in than their synthetic counterparts. They come with texture and stories and tend to only get better with age as they develop a unique patina that preserves the story of their use. Ethical and environmentally friendly practices are a huge focus for us. The belief in the value of these practices has increasingly lead us to artisans and small makers who adopt sustainable practices as an integral part of how they run their business. Which leads me to a further important criterion that guides our curation: story. As most of our products are artisan made, they come to us with wonderful stories. Take our copper cup for example. Designed by a talented young designer who has teamed up with a third generation copper craft workshop situated in the northern Italian mountains where each cup is carefully crafted by hand. These beautiful stories of passion and craft infuse an object with a soulful quality. Capturing them as part of the inherent value of the objects in our collections is an important part of what we do. Sharing these stories in our product descriptions and on our social media channels is a true joy and something I plan on doing even more once our studio space is complete. Finally, reflecting on how material, process, story and use come together to encourage a slower more mindful approach to homemaking is at the core of what we do and something I am proud to call an integral part of what ILDN is all about.
I am grateful for all of the support we have received this year. First and foremost from our customers. Every order we receive, every view, every comment brings us a little closer to creating a community. I love seeing our customers use our products in beautiful and creative ways and am grateful when you share these moments with us. I am also thankful for the wonderful bloggers, editors and social media users who so kindly share our work. We have received so much interest in our store as a result of your willingness to share our work with your audiences and for that, we are grateful beyond words. 
Thank you for taking an interest, for sharing our stories, for your inspiration and support. Here's to 2018 and to seeing this community continue to grow.
Images above show our Hand-forged Copper Cup, Copper Kettle, Natural Handwoven Trivet, Simple Mug in chocolate clay and matte grey glaze, Amber Apothecary Tobacco Scented Candle and  Pearwood Dusting Brush.