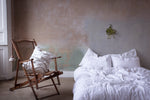 THE BENEFITS OF NATURAL OVER SYNTHETIC MATERIALS
Some of us were not born as revolutionaries. Revolution is sometimes necessary, but it often brings with it consequences that ricochet change in an unpredictable direction. There is something to be said for slow steady evolution. The kind that gives small changes enough time to be considered and evaluated against the background of a world completely interconnected and constantly in flux. Small incremental adjustments that lead us, slowly but steadily, to a better position than where we are today.

It's hard to stop progress, nor am I convinced that attempting to do so makes any sense. We are creative beings. Making, inventing and moving forward is part of the very fibre of our being. Using our creativity is one of the greatest pleasures in life. But in a world of over seven billion souls, in order for there to be enough space for everyone to create freely, we need to give some consideration to our processes. What we need now are smarter, more considered solutions that let us create in abundance, but that do not lead to the demise of our world.

One elegant idea has always captured my imagination in this regard. The Cradle to Cradle theory of design proposes that when creating physical products, we need to consider their entire lifecycle. The physical world designed by nature is not linear but cyclical. Everything that passes is reabsorbed back into the ecosystem. Everything is a resource, nothing is waste.

Taking the same approach to the products we create seems to offer a small part of the solution to the current problems our world faces. There are many others we need to consider, like the energy and chemicals used in product creation, or the cultural and social impact that the creation and use of certain products has. But being mindful of the Cradle to Cradle idea when we create or consume products seems to offer a step in the right direction.

Considering what will happen to products once they reach the end of their lifecycle at the point of creating or purchasing them offers one sensible starting point to dealing with the enormous challenges we face. How long will what we are buying be used? Can it be reused once we are done with it? Can it be repurposed into something else? Can the material used to make it be easily re-obtained? Once it has reached the end of its life cycle, will it degrade easily or will it be around for a long time?

Simple natural materials seem to offer such an elegant step in the right direction. Products made from one material can be repurposed much more easily than products comprised of a multitude of complex materials. What's more, pure natural materials tend to be far more biodegradable than their synthetic counterparts.

It's not revolutionary, nor will it provide the solution to all of the problems that face us. But it is a small step in a direction that currently seems to make more sense than the status quo. So long as the natural materials we use for product manufacturing are obtained in a sustainable and ethical way they, can offer a beautiful step toward dealing with the enormous problem our world is currently facing with regards to dealing with our plastic waste. We need to be ready to reevaluate this solution in light of any new evidence that presents itself or any innovative new solutions we find, but for the time being this is one of several reasons that make what products are made of an important aspect to consider when deciding what to buy.
Images above show our pure 100% Linen Bed Set in white and natural Pearwood Dusting Brush in white.