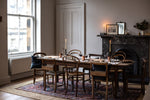 THE SHAKERS: A VALUES-LED APPROACH TO DESIGN
The enduring nature and timelessness of any given design so often rest on the thoughtfulness and attention put into the process of creation. The majority of spaces and objects that have stood the test of time have been crafted with meticulous attention to detail, with great care, and over a timeframe that progressed at a human pace rather than a pace driven by capitalist market forces. I believe that many people intuitively recognise this kind of quality in design and the soulfulness inherent in it, even when we know little about architecture, design, or craft. We simply feel it.
Architect, theorist, and author Christopher Alexander wrote about this quality in many of his books. He called the quality "life-giving" or "the quality without a name". In his book 'The Timeless way of Building', he wrote that objects or spaces are most likely to have this quality when they are "made with care and with attention to the small things" (p. 134). He notes that "the love, and care, and patience needed to [bring about the life-giving quality] can only exist when each detailed part is cared for, and shaped, by someone who has the time and patience and knowledge to understand the forces acting on it." (P. 164).
One truly remarkable example of the idea that things of lasting beauty are borne out of the time, care, and the attention poured into them, are the objects and spaces created by Shaker communities. I have admired the simplicity, functionality, and timelessness of classic Shaker designs for many years but it was only when I took the time to gain a better understanding of the values and ideals that the Shakers lived by that I began to understand why their designs were so extraordinary. In this blog post I want to share a brief introduction to the Shakers before moving onto sharing some thoughts in our next blog post on why their designs and creations have this lasting, enduring quality and beauty to them.
The Shakers
The Shakers were a religious sect of self-sufficient, egalitarian agrarians who originated from  the 'Shaking Quakers', known for the exuberant form of ecstatic dancing that was an essential part of their worship services. Originally founded in England in the late 1740's a few of the early Shaker members, led by Mother Ann Lee, sailed across the Atlantic ocean and settled in America in the late 1770's. Uncommonly egalitarian for their time, the Shakers practiced communal living, equality of the sexes, pacifism and a simple form of self-sufficient agrarian living apart from mainstream society.
The Shakers' everyday lives were entirely centred around their beliefs and values. They strove to enact these values in all that they did. They were practical and inventive and even though they deeply valued the work of their hands, they were not luddites. Shaker's embraced new technology as timesaving devices and are credited with several technological innovations including the circular saw. At the same time, Shaker craftspeople were masters of their trade who perfected a style of design that was simple, durable, and functional yet so elegant in its simplicity that the distinctive style they created has been revered for centuries.
Particularly relevant to their designs and craftsmanship was their deep belief in the value of good work not merely as a means of survival or production but as a means of worship. Mother Ann Lee was credited with saying "do your work as though you had a thousand years to live and as if you were to die tomorrow" beautifully portraying the value that the Shakers placed on mindful, spiritual labour over mere production. The Shakers strove for perfection in all that they created as a way to glorify God. The thought, care, and attention with which they executed their craft resulted in exceptional design and production and has made their creations appealing to people all over the world.  
Because of the enduring quality of their work, their distinctive designs are still prized and imitated today. From the Shaker ladder-back chair, to the classic Shaker kitchen, to their iconic peg rails which are all still being reproduced today, the distinctive Shaker aesthetic has inspired many designers and design styles including elements of modern Danish design that has found its way into most modern homes through brands such as Ikea. Their innovations and designs have been both directly copied and used as inspiration and a jumping-off point for many modern designs.
The Shaker aesthetic is timeless, simple, clean, and functional. But the reason that these qualities came to define the Shaker style is that they emerged out of something far deeper than a mere focus on trying to evoke them. The soul of shaker design comes from the fact that everything they created was an embodiment of their deepest values. I believe that when an object or a space or anything for that matter is created from a place of our deepest values it is much more likely to be endowed with that "life-giving quality" that architect Christopher Alexander describes in his books.
The objects and spaces that the Shakers created were deeply interwoven with their values, belief-system, and their way of life. To appreciate why Shaker creations have captivated people for centuries, we need to develop a sense for the ways in which every aspect of their design and creation process was informed by, and rooted in, their values and beliefs.
In our next blog post we will take a look at some of the key values that informed the Shaker design process as well as how designing and creating from this deeper, more soulful place resulted in the enduring qualities of their designs.
Images above show our Hand Forged Copper Cups, Handmade Fluted Side Plates, Stone Washed Baguette Flatware Set, Classic French Table Glasses, Pallares Solsona Kitchen Knife, Brass Water Mister, Handmade Linen Napkin Sets in Off-White and Various unique pieces from our Vintage and Collected Collection including our Vintage French Ironstone Terre De Fer Plates, Vintage Set of Three Bud Vases (all other items now sold out).