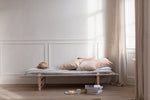 HOW TO CREATE A HOME WE WILL FEEL CONTENTED IN FOR LONGER
Our homes are the spaces we have the most freedom to decorate in a way that allows for the lifestyle we wish to lead. Increasingly, people have a desire to tailor their living spaces in a way that represents their personalities and supports the direction they wish to develop in. Many of us are taking on big renovation projects rather than buying finished homes to be able to create spaces more suited to our unique lifestyles and preferences.
Designing and creating our own space is a wonderful project. But it can also feel like a daunting challenge on a scale beyond many other things we tend to embark on. For most of us, these projects will eat up the bulk of our savings (if we are lucky enough to have any) and if accompanied by the purchase of a new home, will most likely require a mortgage. Renovation and redecoration are among the most costly projects we carry out in our personal lives. And yet, more often than not, these projects are something many of us are doing for the very first time, with limited expertise and little relevant experience. Without a clear sense of how to design a home so that it will align with our unique needs and the life we wish to lead within it, it is easy to get swept up in the barrage of ever-changing trends.
Pursuing the latest trends can be fun but the challenge is that trends are ever passing. Using current trends as our main anchor for redecorating or renovating our homes is, therefore, the approach most likely to leaves us vulnerable to changing our minds and feeling uncertain or unhappy with our decisions.
One of the first challenges many of us will face is simply knowing where to start. To lend a helping hand, we've put together a guide of things to consider if you are about to, or are thinking about, renovating or redecorating your home: 
When it comes to visualising the end result, the best place to start is how we want to feel rather than how we want our homes to look. Visualising the ideal feeling when we walk into our home is one of the best ways to ensure we will feel happy with the results for longer. Trends come and go and what looks great now is likely not to look as great in 10 years time. But if we design our homes to evoke a feeling or an atmosphere we are much more likely to stay content with the result through passing trends. I've written a separate blog post on this topic and created a free worksheet that provides a helpful starting point for exploring this idea. You can find the worksheet here. Additionally, two excellent books that consider the importance of how interiors should feel rather than just how they should look are Ilse Crawford's A Frame for Life and Natalie Walton's This is Home.
Another way to ensure that our homes serve us as well as possible is to design for flexibility. Planning interiors that can be altered, changed and tweaked means that as our lives and preferences evolve we have allowed for the flexibility necessary to accommodate our changing needs. Consider furniture that is movable rather than built-in, for example, to accommodate the needs of our own home to serve both as a living home and a working studio we incorporated a movable island into our or kitchen. Consider furniture that works across various rooms such as a footstool that can serve as a coffee table or chairs as bedside tables that can be pulled up for extra guests as needed. Some people even create rooms that can be partitioned or have large doors that can connect or separate living spaces. Finally, many furniture manufacturers today create sofas, beds, and armchairs with removable, washable covers. Slipcovers can even be made to fit certain vintage or antique pieces. By having the possibility of changing furniture covers it is possible to both drastically alter the look and feel of a room and to preserve the furniture for longer.
Use every space in as many ways as you can think of. If you have the luxury of one or even two spare rooms consider what they can be used for in addition to space for guests. A home office? A creative studio? An entertainment room that keeps televisions and other devices out of the main living area? Rooms can be designed to accommodate several different needs at once, it just requires some consideration and planning.
Collect and keep track of visual ideas. Desktop folders or even better, Pinterest boards,  are a useful way to collect and keep track of what inspires us. We can start by collecting images of spaces that have the feel or atmosphere we feel most comfortable in. The most important aspect of this process is to use the images we collect to develop a sense of what we like and why. Once we have a large collection we can look over them and try to discover what it is they all have in common that results in that feeling. Are they mostly bright and warm, vibrant and interesting or simple and calm? As we begin to develop a clearer sense for the feeling we want to create we can delete images that don't support this feeling and we can start to understand the more nuanced elements that work to create it. The more frequently we look over and edit our collection the more clear our vision will become. Later we can start to break this process down from a feeling in our entire home to the feeling within the individual rooms or different spaces within our home.
Aim to have an overall vision for the whole, but plan to execute it in layers. Trying to select furniture and decorative items when we haven't had the chance to experience what the base elements of our space will feel like can be overwhelming. Keeping in mind the vision for the final feel we want to achieve, it can be helpful to devote our full attention to the different elements in three stages:

Base layer first. This refers to all the immovable parts that we will not be able to be replace or adjust at a later stage. For example flooring, bathroom brassware, built-in kitchen cabinets, tiles and permanent room divisions. Once we have defined what we want the overall feeling within our home and each room to be we can concentrate on pinning down how to execute this for only those fixed parts we will not be able to change later.
The second layer is the part of our project we begin to engage in once all the fixed, immovable parts are complete. At this point, we can devote our full attention to the bigger décor elements, for example, big furniture items including beds, sofas, and finalising the main colours for walls and woodwork paint.
Finally, the third stage frees us up to concentrate fully on smaller furniture items and all decorative elements. At this point, we will have a very good sense for what the spaces feel like and what else will be needed to accomplish the overall atmosphere we want to create. This stage is also likely to take the longest and in some sense may never be fully complete as we add and tailor our living spaces to our changing needs.
Naturally, there will be some overlap between these stages. They are intended as a guide for consideration, not a rigid set of rules that must be adhered to strictly. But breaking down what can be an overwhelming project into smaller more manageable chunks can help to prevent overwhelm. This approach will allow for more time to reflect on whether we are making the right decisions by allowing us to concentrate on fewer things at once while always referring back to the overall feel we want to create. It is also far easier to consider what décor items are needed in a semi-complete room than a shell that will change completely before we begin to decorate it. A tip for always being able to visualise the end result is to keep referring to our collection of images to guide decision making along the way, always asking ourselves 'does this add or take away from the overall feel I want to achieve?'
Consider spaces vertically as well as horizontally. We tend to give most consideration to the elements directly in our line of sight thereby giving most consideration to the horizontal plane at eye level. But vertical decorative elements can significantly change or enhance the feel of a room. Considering how doors, tall furniture, wall lights, curtains and wall décor can enhance the feeling in a room or frame our line of sight can have an important impact on the overall atmosphere in the space we are designing. As an example, we can instantly soften up the feeling in a room by adding floor length curtains in a soft, natural material like linen. Tall plants or pieces of furniture and wall lights can be used to create an alternating rhythm within our line of sight and add texture providing vertical points of interest in addition to the horizontal ones.
There is an advantage to using neutral colours as a base. Colour is a personal preference and there is much to be said for using bold or daring colours cleverly. However, one advantage of using a neutral colour palette as a base is that it offers more flexibility. A neutral base allows us to change the colour pallet or feeling within a room through the use of different accent colours that can be changed and alternated without having to change major aspects of the decor. 
Texture is as important as colour and should be given just as much consideration. Most of us are aware of the impact that different colour choices will have on the feel of a room however, shapes and textures can be just as important. Straight edges and sharp corners result in a different feeling to softer rounded edges that tend to make spaces feel more comforting. Whatever our preferences, introducing a variety of textures always results in more interesting interiors. Alternating smooth with rough surfaces, softening rooms with textiles such as rugs, curtains, loose slipcovers, blankets, and cushions and adding lots of texture through decorative items such as dried foliage, potted plants or antique collectable items adds points of interest for the eye to rest on and creates a sense of warmth. 
For a soothing, comforting feel natural materials are key. Obviously, the materials we choose to use within our home are entirely a matter of personal preference and there is no right or wrong solution. And yet there is something calming about natural materials that is primal and difficult to replicate with synthetic materials. If a relaxed, comforting and calming feeling is what we want to evoke within our living spaces, there is nothing that quite compares to the feeling of natural materials: cooling marble, warm bare wood, comforting linen all result in a very different feeling to the slick and more sterile use of plastic.
Vintage is always a good idea. Vintage pieces are better for the environment, and if we are patient enough to wait for the right piece, they allow us to buy very high-quality furniture for a more affordable price. If we are willing to accept scuffs marks and signs of wear in the pieces we acquire, we are far more likely to find a bargain and create a space that feels instantly comfortable and lived in. Not only will these pieces add texture and character to an interior, but they will also allow us to feel more at ease in our homes. With used, vintage pieces any additional marks simply become another part of their story. For inspiration on how to use imperfect vintage pieces to create beautiful interiors try John Derian interiors, Axel Vervoordt and Hans Blomquist.
Accept that good things take time. Time and patience are key when it comes to creating a soulfully put together home. If we allow ourselves the time to layer slowly, our homes will begin to tell their own stories. By allowing ourselves to engage with the process at a more considered pace, we will allow for our own unique style to emerge naturally. Time and patience are especially important if we intend to incorporate vintage pieces. The right piece can take months or even years to find at the right price point. Allowing spaces to evolve gradually and naturally leaves room for our preference and personal style to evolve naturally too.
Designing a home from scratch can be a daunting process. But when we consider it more deeply, much of the pressure stems only from ourselves. Accepting that this endeavour is a slow, loving process that might never be quite complete leaves more room for the kind of freedom and playfulness conducive to creativity. By considering each element in light of how we want to feel within our space, and allowing ourselves the time to engage with this process slowly and mindfully we can begin to create the setting for the life we want to unfold within our homes.
Images above show our Hand Dyed Velvet Cushion Covers in Dune (note these images were taken in a very warm south facing light and are not representative of the colours. For more accurate images of the colours view the actual product images), Kapok Safari Daybed Mattresses in Traditional Stripes, Breton Stripes and Soft Charcoal (all will be back in stock early April), This is Home book by Natalie Walton, Classic French Table Glasses, Handmade Fluted Side Plate, Copper Kettle, Handwoven Trivets, Cotton Tipped Brush Set, Simple Ceramic Mugs in matte white and matte grey, Organic Cotton Bento Bags, Simple Pouring Bowl, Iconic Unglazed Mortar and Pestle, Eggshell Spice Jar, Tall Simple Pitcher, Natural Bottle Brush, Natural Dish Brush, Natural Coconut Fibre Brush, Simple Matte White Vase, Natural Kitchen Twine, Maple Cutting Board small, Pallares Solsona Kitchen Knife small, Isle Crawford's A Frame for Life, Heritage Brass Water Mister