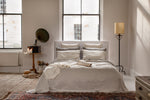 INVITING BACK VITALITY DURING TIMES OF DEPLETION
It is not surprising that the experiences of the last 19 months have left many of us feeling drained, exhausted and uninspired. After the adrenalin-fuelled outbreak and first wave of the Covid-19 pandemic, as the weeks turned to months and the months stretched into their second year, what so many of us are left with is a general sense of heaviness and depletion.
As it becomes clear that there is no definitive endpoint to the pandemic and that we will need to learn to make a habitable home within the aftermath of all that has happened over the last year and a half, the question arises of how we begin to move forward from here? How can we invite back the curiosity and sense of aliveness that are so essential to providing us with the energy we need to not just live but to thrive? 
The answer, while simple in theory, is really not about theory at all but practice: by actively prioritising vitality and making an intentional commitment to bring it back into our lives. For the last 19 months, we have done more changing, flexing and adapting than is easy to tolerate for even the most change-loving among us. 
But how much of that change has been proactive rather than reactive? How much of that change was driven by a steady building toward an intentional future rather than making changes like moving home or changing career as a reaction to the challenges of sitting with what we were feeling during this difficult time?
How do we continue to muster up the energy to both bear the reality of what has happened, saturated with all the heaviness it currently holds, without avoidance or distraction, and move forward slowly and mindfully in an attempt to begin to integrate and move through, not run away from, what has happened?
How do we move past the insecurity and boredom that have coloured our past year and move toward more stability and an openness to adventure that are necessary for reclaiming the joy in life? How do we reach past the loneliness and isolation and tap back into the life-giving energy of connection and belonging?
The answer is one small, steady step at a time.
As the adventurer Amelia Earhart wisely pointed out: "the most effective way to do it, is to do it". What it takes to start the slow and steady ascent toward the feeling of more stability and more vitality is a commitment to that first difficult and intentional move. The one that is not fuelled by running away from, but driven by a desire to move toward, and a true belief in the notion that the small steps we take today will have the power to compound into the future we envisage for ourselves.
At a time of such global instability, it can feel foolish to allow ourselves to begin to create visions of the future again. Over a year of shattered plans, and dreams delayed, has left many of us reluctant to dream up anything for our future for fear of circumstances outwith our control changing everything again.
But living in this state of uncertainty for such a long period of time can result in a deep lack of inspiration and motivation. If you are feeling aimless or stuck, remember that this is a normal reaction to all that has happened. At the same time, it is one that can begin to shift as we take mindful, active steps toward rebuilding our sense of agency in this world.
While those first steps are often the most difficult, you may want to consider the list below as inspiration for inviting back vitality and a sense of forward motion after over a year and a half of feeling constricted:
Reconnecting to our passions – Before we had spent all this time in a state of hibernation, what was it that used to set your soul alight? What gave you that buzzy, energised feeling? Consider not just what you used to enjoy doing but what inspired you and made you feel alive? Is there a step you could take today in order to reconnect with that feeling? Is there something new you could try like taking a course, attending a lecture, or doing something you have never done before? Could you learn a new skill, make a new connection or develop a new perspective? If so, what step could you take today toward making that happen? The key to this task is not just to reflect on it but to take a tangible first step toward reintroducing a sense of passion and aliveness back into life.
Cultivating connection – From touch deprivation to social isolation, if there is one thing that we are all starved of it is the feeling of being connected to others. Reconnecting after such a prolonged period of social separation, at a time when many people are still reluctant to connect, may need to be a very deliberate effort. What are the small ways we can nudge ourselves toward feeling more connected to the people around us? From simple acts like refamiliarizing ourselves with the experience of a stranger's touch through massage or a spa treatment, to simply hugging our friends and family more when we see them, there is so much vitality to be found in the connections created between us. However small these may be.
Embracing sensuality – Actively cultivating opportunities to return back into our bodies after so much time spent in our minds is a wonderful way of inviting vitality back into our lives. By re-engaging our senses and finding new opportunities to use our bodies in activities that intentionally switch off our minds' chatter, we can feel a very different sense of aliveness from the experience of being constantly in our heads. Whether it is experiencing the elements on a long walk, savouring the sense of smell or taste during a dinner out, or dancing with abandon with our minds fully switched off, a great sense of pleasure and liberation lies in returning into our bodies more fully. 
Cultivating joy and laughter – The last year and a half have been saturated with sorrow. Intentionally seeking out and creating opportunities for laughter and experiencing joy as a conscious elixir for the many months filled with sombre experiences is not only rejuvenating but necessary. Being silly, creating moments where we can take ourselves a little less seriously and choosing activities that will make us laugh is always a good idea. But after so much heaviness, mindfully choosing to laugh and cultivate joy is a necessary act of liberation.
Repairing our relationship to home – Many of us have spent the last 19 months doing almost everything from home. From work to leisure, the space that used to be our sanctuary, where we could escape from the realities of the world, became the single space where all of life happened. No matter how much we enjoy our homes, just like no single relationship can meet all of our needs, so too it is too much to ask one space to meet all of our multiple and varied needs. Those of us who have worked and been confined to our homes may need to begin to rebuild the sense that our homes are places we use to recover from the strains of the world around us.
Whether it is starting to slowly return back to the office for at least some of our working time, finding other ways of working away from home, taking up opportunities to pursue leisure activates outside our homes or rearranging our spaces so that they feel exciting and new again, we may need to take active steps towards rebuilding our relationship to home as a place of rest and solace, not confinement and boredom.
Images above show our Heavy Washed Belgian Linen Throw Blanket in Ecru, Heavy Belgian Linen Bedding Set in Stripes, Belgian Linen Pillowcases in Natural White, Handspan Cotton Cushion Covers in Ecru, Handspun Eri Silk Throw, Handmade Linen Napkin Set in Off-White, Stone Washed Baguette Flatware, Firesand Crackle Glaze Dish, Classic French Table Glasses, Handmade Fluted Utensil Holder, Hand Carve Curly Maple Cutting Board, Hand Carved Black Walnut Coffee Scoop,  Hand Carved Condiments Spoon in Black Walnut, Brass Coffee Pour Over Stand, Heritage Brass Water Mister, Shuro Palm Hand Broom, Handmade Fluted Bowls, Dinner, and Side Plates, Hand Carved Black Walnut Cooking Spoon and Spatula, Knob Dish Brush, Copper Kettle, Shuro Palm Trivet.