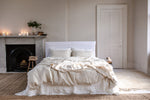 OUR LINEN BEDDING AND ORGANIC COTTON TOWELS
We take great care in selecting our products. Natural materials are our first priority but we also look for items that are thoughtfully created ensuring that the production process aligns with our values.

Unlike most modern-day terry towels, our organic cotton towels are woven by hand on traditional shuttle looms preserving these unique time-honoured techniques that have been passed down for generations.⁠ Made using GOTS certified unbleached organic cotton and hand-finished the traditional way with simple hand-knotted tassels, these towels are soft and fluffy while also being extremely durable and hardwearing. The low-energy production process, organic natural material and high-quality craftsmanship ensure the longevity of these towels making them a thoughtful purchase that should stay with you for decades. You can read more about our Handwoven Organic Cotton Towels here.


Linen is also one of the more environmentally friendly fabrics. Compared to other materials it uses significantly less water in the production process and creates no waste due to every part of the flax plant being of use. Linen is highly durable yet fully degradable meaning that it can stay in use for decades but once it is no longer in use it can easily and fully decompose. These credentials and its relaxed and fuss-free look have made it one of the most appealing choices in natural, thoughtful homes.
 
Our Belgian linen bedding is made in a nearly 200-year-old, family-run Belgian linen mill, powered by renewable energy that comes from the sun and the sea, the production of all of our Belgian Linen products is certified CO2 neutral. ⁠Each piece is woven and crafted entirely in Belgium and comes with a certificate of origin making it fully traceable back to its origin. 
Images above show our Belgian Linen Bedding Set in Natural White, Belgian Linen Fitted Sheets in Pure White, Handmade Linen Pillowslip Set in Off-White, Handmade Linen Top Sheet in Off-White, Classic French Table Glasses, Handspun Eri Silk Throw, Handwoven Organic Cotton Towels in Ecru, Tan Striped Belgian Linen Cushion Covers and Handspun Cotton Cushion Covers in Ecru.