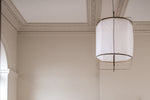 NATURAL SISAL AND COTTON LANTERN LAMPSHADES
Over the years we have had many questions about where our beautiful blonde net lampshades could be found.  Designed by AY Illuminate and handcrafted by skilled artisans these lampshades have always been an integral part of the spaces we have created. 
There is a space between the ceiling and where most of our decorative items are placed where many rooms can feel a little bare. This is especially true for spaces with tall ceilings such as the ones found in many period properties. Our lantern lampshades are extraordinarily simple: a handmade bamboo frame wrapped in a cover made from natural sisal netting or recycled cotton cloth. Together these two simple elements create a striking result: a natural decorative lampshade that fills what can feel like a large empty space with a soft and ethereal focal point for the eye to rest on.
Reminiscent of the paper lanterns that are used in ceremonies across the world, these lampshades create a soft diffused light that glows through the cotton cloth or casts dancing shadows through the sisal netting.  
While their unique design creates a natural and comforting atmosphere, we have selected these lampshades not only for their aesthetic appeal but also for the story of material and traditional craftsmanship that go into creating every lampshade.
Each lampshade is crafted by hand using two natural materials – a bamboo frame and a handwoven cover made from sisal rope or recycled cotton cloth. Each of these components is crafted by skilled traditional artisans in the region where the natural material are grown. The bamboo frame is grown, carved and bent into shape in China, the cotton is woven on traditional handlooms in Bangladesh using recycled yarn created from remnants form the cotton textile industry, and the sisal net is handwoven in Swaziland using a naturally regenerating weed from the Lavumisa region.
The natural materials and rounded edges of these lampshade contribute to creating their distinct organic feel, at once simple and striking. Their voluminous form and ethereal design beautifully fill what can be an awkward empty space, instantly becoming the focal point of a room whether that is the bedroom, hallway, living room or dining room.
Both the Sisal Lantern Lampshade and Cotton Lantern Lampshade are available in a large and a small size and you can read more about how they are made in the product description. If you have any questions do not hesitate to get in touch at hello@elleihome.com.
Images show our Cotton Lantern Lampshade and Sisal Lantern Lampshades.