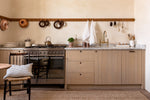 CONSTRAINTS AS A MEANS OF FOSTERING CREATIVITY
For most of human history, the majority of people on this planet had to contend with never having quite enough. Resources were scarce and difficult to acquire, and most people had to make do with very little. In many parts of the world people still live this way today. However, over the last several decades in the West, many of us have come to struggle with the opposite problem. Instead of never having quite enough we are overwhelmed by choices, options and things.
When reading A History of Interior Design by John Pile and Judith Gura, I was struck by their note that during the seventeenth-century massive storage cabinets came into use because built-in storage had not been a part of the architecture of the houses that had been built up until then. The authors noted that "such pieces became important as wealth made possible the acquisition of much clothing and objects of every sort".
Today, whether a home has built-in storage is one of the most frequently asked questions during home viewings as most Westerns have come to possess a large number of belongings. This shift over the last few hundred years from homes having no storage to homes never having quite enough storage has been a transition that impacts us and our planet in a number of different ways.
I know that those of you reading this blog are more than aware of the impact that over-consumption has on our environment. But beyond the urgent need to address this habit for the sake of our planet, the problem of too much choice and too many things also has an impact on our daily lives.
We have more choices than any humans have ever had before us. While this can be viewed as, and indeed is, a blessing in some sense, in other ways the options available to us are so numerous that making decisions has become time-consuming and overwhelming. From spending time searching through the many choices for just the right item at the right price to reading reviews to making decisions between the many almost identical products is something most of us have had to contend with on more than one occasion. Too much choice can also leave us feeling dissatisfied once we do ultimately make a decision, knowing that many similar options were also within reach and questioning whether we did make the best decision.
Another common feeling that results from having too many options is a feeling of frustration and ultimately apathy rather than inspiration. It is not uncommon for people to decide to take on a project like decorating a spare room in their home only to be faced with so many options that the project quickly starts to feel draining. This can lead to the effort and time feeling like too great an investment in our busy lives and the project getting put on the backburner or abandoned.
As humans we have evolved to keep seeking, collecting, and acquiring. Our evolved brains and bodies were created for a world that never quite provided enough. A drive to continuously seek out more would have been a particularly useful survival mechanisms at a time when our reality constrained our desires. But in modern times, when plenty has tipped over into too much, we find ourselves struggling with an entirely different issue we are not evolutionarily equipped to cope with: how do we develop the new skill of being selective during a time of increasing options and an overabundance of choices?
New York based graphic designer Jessica Walsh has often shared that she believes that one of the greatest ways to foster creativity is imposing constraints. She has not only become one of the most influential graphic designers of the last two decades through her innovative illustration, design and art direction work but is also a successful business owner and educator with numerous creative side projects like her 2014 project 40 Days of Dating and 12 Kinds of Kindness.
When asked for tips by aspiring designers and business owners on how to find creative inspiration or get over creative block, Walsh has emphasised again and again that constraints are one of the best ways to foster a creative, original and personal approach. She writes that "when the possibilities are too open, you end up drowning in options and feeling lost about what to do. Constraints are an excellent way to form a unique creative style. It's a technique often used in writing, for example, Dr. Seuss would only write his books with 30-120 words, which gave them a strange and unique vocabulary style people grew to love. Many of the best illustrators, filmmakers, artists, musicians also work within their own unique constraints".
So while an insatiable drive for more has historically been what has helped us to survive, what will help to get us through this next phase will be a shift towards a more conscious and mindful process of careful selection in a time of plenty. By creating self-imposed constraints, we can begin to shed some of the overwhelm from living in a time of too many choices.
When it comes to creating our interior spaces, this technique works beautifully not only to prevent overwhelm to but create more coherent and aesthetically pleasing spaces. The limits we impose on ourselves will serve to draw out our creativity and make the results more unique to us.
We are all constrained by certain obvious limits such as budget which will rule out many options from the very beginning. But somewhat counterintuitively, adding additional self-imposed constraints can feel freeing and empowering in a way that budgetary constraints often don't.
From limiting the colour pallet we are prepared to consider to limiting the range or type of materials we will focus on to limiting which shops or types of shop we buy from, there are many different ways that we can set ourselves constraints within which to make design decisions. For me a rewarding aspect of this approach is that it allows us to embrace all of the limiting factors that inevitably spring up during the process of designing our homes, being able to recognise them not as frustrations but as an opportunity for creative problem solving which can ultimately lead to a more original and individual solution.
This style of thinking is a shift from our evolutionarily evolved intuition that more choice is better, toward a truly creative way of engaging with our decision-making. The more we can learn to restrain our minds the more creative and original we push ourselves to become.  
At a time of too much, where the abundance available to us is harming not only our planet but also our own mental wellbeing the new skills of selection, restraint and self-imposed limitations will serve not only us and our creative projects but also the wider world around us.
Images show our Handwoven Cotton Cushion Covers in Plain Stripes and Traditional Stripes, Hand Forged Copper Stacking Cups, Handmade Linen Napkin Sets in Off-White, Stone Washed Baguette Flatware, Classic French Table Glasses, Shura Palm Broom and Shuro Palm Hand Broom, Copper Kettle, Hand Forged Copper Bunt Cake Mould and Hand Forged Copper Cake Mould (coming very soon), Shuro Palm Trivets, Copper Tea and Coffee Canisters, Handmade Fluted Side and Dinner Plates, Handmade Fluted Utensil Holder, Natural Dish Brushes, Tawashi Brush, Brass Coffee Pour Over Stand and Handwoven Waffle Linen Kitchen Towel in Organic Cotton.