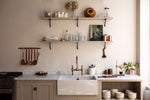 OUR HOMES - INDIVIDUAL LIKE OUR LIVES
There is a fundamental tension in being human that arises from the moment we are born, and for many people, can follow us throughout our lives, unresolved until the very end. The tension between authenticity and belonging, both fundamental to our thriving, seemingly pit our two deepest psychological needs in opposition to one another in a trade-off that leaves many people feeling alienated or disconnected either from themselves or from others.
Our need for authenticity is a longing deep inside all of us to express and be valued for who we are without the need to hide or contort our true nature into something that conforms to society's rigid standards of acceptability. At the same time, our deep desire to be accepted and valued by others, in a society that enforces a very narrow view of what is desirable and valued, can leave us with seemingly little choice but to conform to the expectations put on us.
Creating our sense of self based on what current societal norms demand of us rather than deep and authentic internal pulls, can leave us with little felt sense for who we are and what choices would lead us toward or away from a sense of wholeness. This lack of connection with our own deep desires leaves us vulnerable to judging our self-worth according to society's standards and comparing ourselves to those around us based on pre-prescribed standards and measures.
This need to compare ourselves to others becomes fundamentally ingrained into how we generate feelings of self-worth. Even as we recognise that the positive feelings of self-worth attained by each new tick on the list of how our lives ought to be, is transitory and immediately subsumed by the next step on the ladder, the lack of connection to our own true desires leaves us with seemingly little choice but to follow what others are doing. We begin to value our achievements in comparison to others, and our desires become completely contingent on what those around us are striving for.  
While conformity moves us away from a connection with our authentic selves, it does provide a choir of voices that will help to reinforce that we are on the 'right' path every time we feel a tinge of doubt. Building a more authentic relationship to ourselves, driven by our own wants and needs, can be deeply uncomfortable when our choices fall out with the narrow band of society's idea of what is acceptable or desirable.
As most of us are not taught to sit with discomfort or uncertainty, the need for validation from others that we are on the 'right' path, either overtly or through emulating their choices, can be an irresistible pull.
As we open up to seeing life not as a linear progression but rather a colouring in of the canvas that forms our unique lived experience, the futility of comparison becomes increasingly obvious. Comparison and looking to others for the answers of how we ought to spend our unique existence makes no sense because there is no end-goal to be attained. Ultimately, at the end of life, every single one of us will finish in the same place. Recognising this truth allows us to begin to celebrate the multitude of different roads we can take to get there allowing ourselves to cultivate and nurture our individuality rather than stifling its existence through comparison and rigid enforcement of societal norms.
What's more, cultivating individuality does not need to come at the expense of cultivating deep bonds to the people and world around us. Our differences can enrich our lives serving as points of curiosity and inspiration rather than as points of contention. They can be reflections of the rich possibilities our individual choices open up for future generations rather than invalidations of others' choices. We can be free to cultivate and express our unique preferences without losing concern for the impact our choices have on others.
This integrated individuality, one where we cultivate a deep sense of ourselves while honouring the rights of others to freely do so as well, is an aspirational future. Our uniqueness and differences are not threats but opportunities. And in this light, there is nothing to be gained from comparing where we are and what we have to those around us. Authenticity is nurtured through the practice of listening to our own internal feelings, needs, and intuitions and is all but drowned out by chronic deferment to the world's expectations of us.
To live in a time where the opportunities to make free, authentic choice are increasing in more ways than ever before is one of the great privileges of our time. While the pressures of social conformity are real and powerful, they are not the same as real sanctions endured by the many previous generations that came before us. This privilege is ours to preserve by making the greatest possible use of. 
In a recent interview, I was asked to state what my prediction for the next big trend in interior décor would be – my reply was individuality. As our possibilities expand and the range of what is acceptable and tolerated grows, so too will our desire to create spaces that reflect this diversity. My feeling is that trends will become increasingly irrelevant as people continue to focus on making their homes their own. As our individuality becomes not only accepted but welcomed and celebrated, our homes will continue to grow in diversity reflecting our unique preferences and the uniqueness of the lives that we lead. The idea of some external source setting the next big trend and telling the rest of us how our homes should look and feel seems increasingly absurd to me. Our spaces should serve our own needs and be reflections of our own preferences and diverse ways of living.
As more of us begin to free ourselves from the stifling bonds of conformity and begin to embrace our individuality and unique choices as a cherished and enriching part of our lives we will begin to see fewer and fewer 'trends' emerging. We all get inspiration from what we see around us, but the pressure to conform will start to dissolve as what is acceptable continues to expand. In this light, I look forward to watching our home spaces become increasingly individuated too. Homes will continue to evolve as reflections of the lives that have been lived within them and the ways in which those lives have shaped the preferences and tastes of the people who reside in them. This will be a beautiful enrichment for us all.
Images above show our Hand Dyed Velvet Cushion Covers in Vault Blue and Leaded Glass, hand Forged Copper Cups and Stacking Cups (also used as a vase), Classic French Table Glasses, Hand Forged Copper Cake Mould and Bundt Cake Mould, Hand Forged Copper Kitchen Rail, Pallares Solsona Professional Kitchen Scissors, Copper Kettle, Handmade Linen Kitchen Towel in Taupe Grey, Shuro Palm Hand Broom, Handmade Fluted Utensil Holder (more stock arriving soon), Stone Washed baguette Flatware Sets, Copper Tea and Coffee Canisters, Hand Carved Black Walnut Cutting Board, Pallares Solsona Kitchen Knife, Handmade Fluted Dinner Plates, Side Plates, and Soup Bowls, Hand Carved Condiments Spoon and Brass Coffee Pour Over Stand.