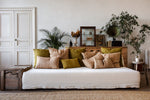 A Sneak Peek at Our Upcoming Vintage and Collected Collection
Over the coming weeks we will be sharing some previews of some of the items that will be available in our upcoming Vintage and Collected Collection. If you have not come across our Vintage and Collected Collections yet you can read more about them here, here and here.
Because most of the items in our Vintage and Collected collections are one off pieces, we release these collections exclusively to the people on our mailing list first before later making any remaining items available to everyone through our shop. This gives our email subscribers the best chance of purchasing one of the unique items before they are released to everyone else. If you would like to gain access to the collection once it is released, be sure to sign up to our mailing list.
As well as our vintage pieces this photoshoot also shows some of the items from our permanent collection: Tea Dyed and Onion-Skin Dyed Eri Silk Cushion Covers, Handmade Speckled Matt Glazed Cup, Handmade Crushed Linen Blanket in Hay, Safari Daybed, Kapok Safari Daybed Mattresses, Handspun Merino Wool Blanket, Copper Kettle, Brass Coffee Pour Over Stand and Brass Water Mister.